Uniforms & Clothing Items (Headgear follows below)
All items listed below are offered & sold as collector items only, and not recommended or warranted for wear
TO VIEW LARGER PHOTOS BELOW, JUST CLICK ON EACH THUMBNAIL
1U - ORIGINAL WWII U.S.M.C. REVERSIBLE PONCHO Some many years back, Dale bought several boxes full of these original ponchos. I haven't looked at every one of them, but the ones I did, were stamped a specific date in 1943, 1944, 1945 and are from THE WALKER COMPANY. Some are more stiff than others, and I will price accordingly, and at or below our cost. The best ones are flexible and in overall good shape. Others seem more stiff. However, I have not checked the snaps or seams, but don't sell these for anyone to wear. I can not guarantee them for that use. Some were stored with talcum powder to keep them from sticking together, so you will need to take a little time to wash it off. My prices are cheap enough to move these out, and under what Dale paid for them years ago. I recommend getting one of the Best quality. Best...$85 each Average...$65 each Stiff...$50 each
3U - A GREAT GROUP OF PICTORIAL UNIFORM IDENTIFICATION ITEMS These were part of Dale's reference library, which I believe he purchased in the mid-70's, others are from the mid-60's. They are just such wonderful items to use for verifying uniforms, and they are also fantastic artwork pieces. 1. The group of 11 separate binders (44 plates in all), all sold at the same time, are entitled "UNIFORMS OF THE UNITED STATES ARMY Paintings by H.A. OGDEN". Each binder (14 1/2 x 17") has four prints (just a tad smaller) and a cover sheet that describes the history of that period uniforms and use. The set begins with 1774 and ends with 1888. You may be able to find one binder for sale, but not all eleven at one time. 2. This group is in a large yellow binder (17 x 20", a bit crumpled from handling) and contains twelve beautiful prints and a brochure describing them. The set is entitled "Uniforms of the United States Navy 1776-1898 / (seal) DEPARTMENT OF THE NAVY UNITED STATES OF AMERICA / NAVAL HISTORY DIVISION / OFFICE OF THE CHIEF OF NAVAL OPERATIONS / WASHINGTON D.C. 20360 / 1966". The prints have the artist's name H. Charles McBarron at the bottom of each. 16 x 20" and great for framing. 3. Also included is a large hardcover book (13 1/2 x 17") entitled "UNIFORMS of the UNITED STATES ARMY / Second Series / Paintings by Henry Alexander Ogden / Text by Marvin A. Pakula". This book was copyright 1960. The inside cover states this volume (second) comprises the final twenty six full color paintings of U.S. Army uniforms by Henry Ogden, for the period 1888 - 1907. Just full of information. All items are in mint to near mint condition, other than the dust jacket for the book, which is a bit tattered. $195 for all
4U - WWII NAVY ANCHOR BUTTONS ON ORIGINAL CARD Four hard plastic (I'm assuming) cream color anchor and rope buttons. 1 1/8" tall. On original store card, "Latest Style". $15
5U - TWO WWII PATRIOTIC BOY'S NECKTIES IN ORIGINAL BOX Neat item from the period. Dark blue. Each has a young fellow in uniform portraying the motto which is printed under each. One is "Tell it to the MARINES" and has the fellow marching. The other is "KEEP 'EM FLYING", and has the fellow in an Air Corps uniform, seemingly running along with a plane in the sky. One tie looks unused (Flying) and the other possibly shows some use and some small moth holes. They are in their original box, which only had two ties originally, even though there are four depictions on the cover; US Navy, US Army, Marine, and Air Corps. The lid has a few rubs and one edge is flat. Neat display item. $35
6U - WWI UNIFORM COLLAR DISC Artillery crossed cannon. Under a glass, the finish appears like a thin paint-like substance over the bronze, rather than a chemical finish. About 20% is flaked. Reverse has screw back. No nut. $3
7U - ORIGINAL UNITED STATES AIR CORPS SHOULDER OR JACKET PATCH Little over 3 1/4" in diameter. The design and color is not familiar to me and not included in the references I have. Possibly a pre-War piece. Excellent condition. Does not show obvious signs of having been stitched. $20
8U - WWII PATRIOTIC FELT PATCH 2 1/2" diameter, thin felt circular patch with patriotic text "LET'S GO! U.S.A. KEEP 'EM FLYING!". Three red airplanes at center. Very good. Shows it came off something, not sure what. $15
9U - SUPER QUALITY WWII COAT BUTTON 1 1/2" diameter, 1/4" thick heavy, lustrous black hard plastic with inset in front into which a silver National Seal was placed. The seal is 3-dimensional and in extreme detail. It must have been an amazing coat this came from. A real find for a button collector. Just put it in a shadow box for a great patriotic display. We paid $48 for it about 30 years ago, but will price it to sell now. $20
10U - WWII LT. COL. SILVER COLORED LEAF PIN FOR UNIFORM We think this is WWII period, but could be earlier. Silver color. 1 1/8" tall, 1" wide. Jewelry quality, highly detailed. No markings. Pin back with roller lock. Very nice piece of insignia. $15
11U - WWII ARTILLERY CROSSED CANNON LAPEL PIN 1 1/8" wide. Bright, shiny brass color, in excellent condition, with nice detail to the cannon. I'm not sure of the age, but think it could be earlier than WWII, based on the loop on back...just can't be positive. $15
12U - INDIAN WAR INFANTRY ARTIFICER BRASSARD Used from 1870's up through the Spanish American War. They are heavy wool felt and measure approximately 5 x 7". White sledge hammers against blue/black background. Excellent condition. Some small moth nips, and a few areas of chewing to the upper layer, but is not easily visible. Has tiny holes around the edges, probably having been once sewn on. Only have one. $20

13U - INDIAN WAR INFANTRY PIONEER BRASSARD (SPECIALTY PATCH) Used from 1870's up through the Spanish American War. Large crossed axes cut out of center of approximately 5 x 10" dark navy blue wool, backed with white wool. Mint originals. Have a few. Each ... $8
14U - ARTILLERY FULL DRESS SHOULDER LOOPS Spanish American War, Philippine Insurrection & Boxer Rebellion, 1898-1902. Heavy wool. Deep red tops. Navy blue undersides. Type which is sewn into seam where arm meets the shoulder. Has button hole at opposite end. Have two pair, with different lengths.


A. Dark Red. Shows use and some age toning. Sewn into jacket, would be 4 1/2" long. Pair...$8

B. Rich Red. SOLD Shows less age. Longer than the ones above. 5 1/2" long, sewn into jacket. Pair...$15



15U - ARTILLERY SHOULDER LOOPS OR TABS Issued for the Spanish American Wars, Philippine Insurrection & Boxer Rebellion, 1898-1902. Made in the color designating the branch...in this case, red for Artillery. These are detachable style and have little wire hooks & eyes and button hole. Have a few original examples. Usually worn on khaki fatigue jackets. Sold in pairs - some small variations expected. Approximately 4 3/4" long. Heavy twilled cotton. All excellent and have been worn. Each pair...$15

16U - CAVALRY SHOULDER LOOPS OR TABS Issued for the Spanish American War, Philippine Insurrection & Boxer Rebellion, 1898-1902. Made in color designating the branch. Detachable - most held on by little hook & eye and button hole. Usually worn on the khaki fatigue jacket. Have a few original examples. Sold in pairs - some small variations to be expected. Approximately 4 3/4" long. Cavalry yellow. Heavy twilled cotton. All have been worn. Have a few needing couple wire hooks replaced. Full hooks...$15 pair Hooks needing replacement...$8 pair


17U - INFANTRY SHOULDER LOOPS OR TABS From the Spanish American War, Philippine Insurrection & Boxer Rebellion. Excellent, heavy twilled cotton. White on top, khaki on underside. Fastened to shoulder of coat by wire hooks & eyes, the eye on the coat. Also has button hole which took brass eagle button on upper end. Rare variety. About 4" long. $15


18U - WWII CHENILLE ARMY ENGINEER INSIGNIA - PATCH A large, colorful engineer's castle insignia embroidered in red chenille on a white felt backing, still on its original store card. Insignia is 3 3/4" high x 5 5/8" wide. The card is grey green with GEMSCO logo in corner, and "SEMBLER/CHENILLE EMBLEMS/for SPORTSWEAR" at top. On the bottom is "Guaranteed Fast Color". Insignia is mint. Card excellent with a flex on one side, possibly a slight tear; hard to tell with the plastic on. Extremely rare and desirable insignia from WWII used like patches on jackets, sweaters, etc., probably by both military and civilian. I remember these from my childhood during WWII, but rarely see them today. Discovered in a basement of an old store. ONLY ONE LEFT! Representative sample pictured $10


19U - 1902 INFANTRY ARTIFICER PATCH 2 1/4 x 4 1/2". Light blue wool sledge hammers on dark blue. Single. Mint. $6
20U - EXTREMELY RARE 1870-80'S ENLISTED ARTILLERY AIGUILLETTE - U.S. ARMY (Dale wrote this description some years ago) Don't recall ever encountering another similar enlisted specimen. This is an aiguillette which indicates that it was attached to the underside of the shoulder knots, and draped across the chest...having nothing to do with the helmet. In this case, or time period of transition from the 1881 helmet, which had a segment of braid and cord going from the helmet to become chest cords, many hat cords were cut in half, separating the lower half (now chest cords) from the upper half (hat cords). The use of an aiguillette with the 1884 jacket seems to be mostly confined to band members, and probably a few enlisted personnel holding special positions on the staff. Most wearer's of the 1884 jacket would probably not have been wearing the aiguillette, though for display, it probably could be justified as representing an important enlistedman. See Langellier's "More Army Blue", pg. 199 for the general form and color. See also pg. 189. For the fixture on the aiguillette which attaches to the flat bar under an epaulet or shoulder knot, see pg. 138, an officer's model using the same slotted brass fitting. From the brass shoulder fitting to the end of the two brass "pencils", is 43". From the shoulder fitting, two braid loops hang, which go under the shoulder, plus two braid cords which cross the chest, attach to two buttons and hang straight down to the "pencils". Condition is excellent, with a few scattered snags. Guaranteed original. Ultra rare. $125



21U - SCARCE AND IMPORTANT ACCESSORIES TO SCARCE MODEL CIVIL WAR EPAULETS This scarce model was worn by the U.S. Marines, as well as many state units, of which the Civil War Army was mostly made up. This epaulet model had the feature of being worn either with or without wood cord fringe. The Marine fringe was red. I've seen yellow fringe for state cavalry units. The brass frame to hold the fringe is the next difficult part to obtain, if you have the epaulets…missing the fringe. We offer a matched pair of the brass fringe holders. The epaulets had open undersides to the crescent ends, into which these fit. Fine condition. Only about the third set we've found in 30 years. $25
Headgear
NOTICE: Within the listings below are some rare and hard to find hat parts, side buttons, kepi/hat insignia and hat plates. This is material Dale had acquired over 40+ years. You may find just the right item to fill in that missing part for your hat or helmet.
TO VIEW LARGER PHOTOS BELOW, JUST CLICK ON EACH THUMBNAIL


1H - CIVIL WAR ENLISTED ARTILLERY HAT CORD representative example shown Un-issued, unused condition, absolutely original. Red worsted wool double cords. Goes through keeper in front and ends in large tassels of the same material, some still retaining the thread which holds the fringe bunched together, others without. From a stash of rare hat parts accumulated over 45+ years. Each...$35
2H - CIVIL WAR ARTILLERY HAT CORD Just found this in the group above. Only have one. Acorn ends. Absolutely original, unused condition. $45
3H - 1940's 4TH OF JULY PATRIOTIC CHAPEAU STYLE HAT 15" long. Expands like an accordion. Top has crepe paper which when pulled apart, expands. Red, white and blue sides are thin card stock. Excellent. $15
4H - NEAT PAIR OF WWI PATRIOTIC AIRPLANE & EAGLE PAPER CAPS All red, white and blue, in heavy paper. Looks like they would fit most adults (but we don't recommend wearing). 11 x 6" flat. Tops have circular star insignia against red and white stripes. Ends have blue vertical bands with white stars. Headband is different on each. One has WWI airplane, the other has a flying eagle. Unused condition. Great for display. Both...$20
5H - WWII "V" FOR VICTORY CARDSTOCK HAT Folds flat. Red/white/blue with large silver "V" stapled on. Red/white/blue crepe paper accordion top. 11 1/2" wide across front x 4 3/8" tall to top of "V". Excellent condition, with some age darkening and minor wear. Great for display. $15
5H - WWII VICTORY CARDSTOCK HAT 1 1/4" wide forming a red, white & blue band which goes around the head...size approximately 6 7/8. Attached, so it stands in front of and higher than the band, is a silver foil-faced, die cut "V FOR VICTORY". Near new condition with one bend in the V. Great for display. $15
6H - CIVIL WAR INFANTRY HAT INSIGNIA Stamped brass hunting horn hat insignia. About 3 1/2" wide. Has proper brass loops soldered on rear. Really nice condition. Absolutely original. Have had this tucked away for decades. $40
7H - ORIGINAL BRASS CIVIL WAR HAT WREATH INSIGNIA Worn on front of kepi or slouch hat. Stamped brass. Regulation style. Retains 3 of the 4 wire fasteners. 2 1/2" wide. Just add company or regimental numbers. $25
8H - ORIGINAL BRASS CIVIL WAR HAT WREATH INSIGNIA Worn on front of kepi or slouch hat. Stamped brass. Regulation style. Retains all 4 wire fasteners. 2 1/2" wide. Just add company or regimental numbers. $35
9H - INDIVIDUAL CIVIL WAR STAMPED BRASS NUMBERS & LETTERS Perhaps some went into Indian War period...I am unsure of those details. For slouch hats, kepi's, Hardee hats, etc. Most are smooth finish and stamped brass, with either loop or straight attachments soldered on back. Most of the small numbers are striated finish. Absolutely original. Back in the 60's-70's, when Dale would find these original numbers and letters, he would just throw them in a box. They built up over time. In the past year, we had been going through boxes of material that accumulated over nearly 50 years as a dealer. Now that Dale is gone, I have been going through more boxes, and found more of these in various places. I've retaken the photos, and hopefully they will be easier to determine which you can use. The photos now list the sizes and prices. Please email to verify availability, as many have been sold.
10H - TWO WWII BOY'S ARMY AVIATOR'S AIR CORPS SERVICE CAP Two original boy's home front "dress like dad" service caps. Light olive fabric. Caps look basically like the real ones for soldiers. One is excellent with red airplane and 'KEEP 'EM FLYING"; Has some stain on the right side. The second is quite faded but still legible with a little effort, is a stamped picture of airplane over "Keep 'Em Flying". Both just about 10" across. $25
11H - M1881 HELMET BRASS PLUME HOLDER RODS All original. The last of a very old lot of parts we kept while we were active dealers. We're now retired and no longer need parts. These are standard model parts but because there were so many makers, there were variations in rod thickness and length and thread. I measure each one out and you pick what you need. Unless noted, most consist of decorative stamped brass disc at top, solder fill on backside, plume support washer, rod with threaded lower end and brass wing nut. (the measurements are close)
12H - A NICE GROUP OF ORIGINAL M1881 (few M1872) HELMET SIDE BUTTONS (Medallions). All guaranteed original, from our stash of historic hat parts we've collected for over 40 years.


A. Original M1881 Helmet Infantry Side Buttons. Classic crossed rifles on disc. Brass wire fasteners soldered to back side. Excellent. Guaranteed original. About 1" in diameter. Pair…$18 (representative samples shown)


B. Original M1881 Officer's Infantry Side Buttons. Classic crossed rifles on disc, with chin chain hook below, and brass wire fasteners soldered on the back. Guaranteed original. Excellent. About 1" in diameter. Pair…$18 (representative samples shown)


C. Original M1881 Helmet Cavalry Side Buttons. About good as new. Crossed saber design. Flat, narrow brass strips soldered on back for attaching. About 1" in diameter. Guaranteed original. Nice, inexpensive early insignia for collectors and proper parts for completing helmet. Pair…$32


E. Original M1881 Helmet Subsistence Corps Side Buttons. About mint condition. Guaranteed original. Has crescent moon design on front. Narrow sheet brass strips soldered to rear for fastening to helmet. Only one pair… $35 and Have one single button…$15


F. Original M1881 Helmet Quartermaster Corps Side Buttons. About mint condition. Guaranteed original. Has crossed feather/key design on face. Reverse has narrow, flat sheet brass fasteners soldered on. About 1" in diameter. Only have three pair…Each set…$32


G. Original M1881 Helmet Artillery Side Buttons. Very scarce. Guaranteed original. Crossed cannon design. Narrow, flat brass strips soldered to reverse for attaching to helmet. Excellent, with some darker tarnish to spots on face. About 1" in diameter. Just found two more pair, very closely matched but not identical. $32 Each


I. Original M1881 Helmet Infantry Side Buttons. Crossed rifle design. Excellent. Fasteners on back are narrow sheet brass strips. Have several pair, slightly different condition than those shown, but all comparable. Each pair…$20


J. Original M1881 Helmet Hospital Corps Side Buttons. Good as new. Guaranteed original. Has silvered cross applied on the face. Flat brass strips on back for attaching. Great for building a helmet or adding to an insignia collection. Have two pair. Each…$32


O. Original M1881 Officer's Helmet Infantry Side Button. Only one. Has the standard crossed rifles on the face, and chin chain hook, and flat sheet brass fasteners on back for attachment to helmet. Excellent. The only officer side buttons we have with the sheet metal (rather than wire) fasteners. Only one button. $10
13H - C.1840-50's MILITIA HELMET PLATE Definitely of military composition, employing cannon and flagstaff/spearheads radiating from a beaded center and superposed on a sunburst background. Has an applied (from the back) black enameled sheet iron disc at center with raised brass regimental number "5". One of the most popular stock patterns of the period I know of. 2 ¾" across. Seen often on dress caps, perhaps more so than on shakos, by this time. Lustrous light patina. Reverse lacks one of two wire fasteners. Valuable restoration piece. Often mistakenly thought to date post-Civil War. Not so. Exact specimen is shown in Campbell & Howell's "American Military Insignia 1800-1851" (Smithsonian Bulletin 238), page 86. $50
14H - HIGH QUALITY GOLD PLATED INFANTRY OFFICER'S KEPI INSIGNIA C.1870-80'S Crossed rifles 1 9/16" wide, with four jeweler's rings soldered to the rear, for sewing the insignia to the hat. High quality. One of an infinite variety of kepi insignia used by officers. Fine condition. No wear to gold. $45
15H - EXCAVATED U.S. ENLISTED INFANTRY HAT INSIGNIA C.1874 Stamped brass crossed rifles. 2 1/2" wide. Dale dug this at Fort Craig New Mexico in the early 1960's. Dark brown patina. Very good dug condition. Lacks wire fasteners on back. $25


16H - MINT M1874 U.S. INFANTRY KEPI INSIGNIA Unbelievably, we uncovered a small original lot of these insignia still in the original box Stokes Kirk (early surplus dealer) kept them in (box no longer available). These are stamped brass crossed muskets, with wire loop fasteners soldered on back. 2 1/2" wide. Original Regular Army issue, precisely as used throughout the Indian War period by Infantry. Good as new. May have a bit of tarnish only. Each...$35
17H - NEAR MINT M1874 U.S. INFANTRY KEPI INSIGNIA Crossed muskets in stamped brass, 2 1/2" wide. Has only one wire fastener on back. Otherwise perfect. What a thrill it would be to find one of these at a Western fort. $35 Have one other about the same, but with no fasteners...they were actually cut off, not broken (not pictured). $30


18H - RELIC M1872 U.S. ENLISTED CAVALRY CROSSED SABERS HAT INSIGNIA Have three specimens which were vandalized when turned in, probably by unhappy soldiers. In all 3 cases, the end of one saber was broken off, and some of the attaching wires also broken off. Fronts of two are excellent (except tip of one saber). The third specimen is a bit bent up. GREAT FOR DISPLAY... All three for only $30
19H - M1872 U.S. ENLISTED CAVALRY CROSSED SABERS HAT INSIGNIA These actually saw field service, and are the last few left from material I acquired decades ago. Stamped brass 2 3/4" wide at the bottom of the sabers; 2 5/8" hilt to hilt. Patina ranges from dark to almost clean. Excellent fronts. Attaching wires on back are gone (probably broken off when turned in). Have only 4. Each…$25
20H - M1872 U.S. CAVALRY CROSSED SABERS HAT INSIGNIA As above. Stamped brass 2 3/4" wide at bottom of sabers; 2 5/8" wide, hilt to hilt. Actually saw service, then stocked away when turned in. Had only a few acquired long ago and set aside. Medium patina. Has one rear attaching wire. These are exactly as I have excavated at Western cavalry forts of the Indian War period. Have only one left…$35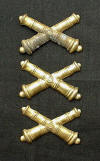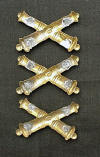 21H - M1872 U.S. ARTILLERY KEPI INSIGNIA Found these few scarce specimens decades ago, and put away. Stamped brass crossed cannon. Prox. 2 1/8" wide. I don't think we've had more than half a dozen in over 40 years. Have 3. Two are almost like new on the face; the fastening wires are gone from the rear. The third has a bit of patina on the lower face but retains one fastening wire on back. The top one is sold Each...$35