All periods and variety of Paper material: WWII Technor Victory Postcards, WWI & WWII Posters (a large group below), Photos, Books, Coca Cola Cards, Matchbook Salesman Samples, Civil War Patriotic Envelopes, Sheet Music, Victory & WWI Paper Hats, Decks of Cards, Pilot and Aviation Items and more will be found in this section. Quite a mixture of some GREAT items and GREAT BUYS. Over 60 listings, and 75+ items!!

LOTS OF NEAT ITEMS - I HOPE YOU'LL SCROLL ALL THE WAY TO THE BOTTOM!
CLICK ON EACH THUMBNAIL PHOTO FOR LARGER VIEW OF THE ITEM
PRICES REDUCED ON EVERYTHING, AND EVERYTHING IS NOW PRICED WAY BELOW ORIGINAL COST IN ALL CASES!! NEED TO MOVE THESE ITEMS ALONG. PLEASE SCROLL THROUGH AND YOU WILL FIND SOME GREAT BUYS.
1PP - ORIGINAL WWI & WWII POSTERS The following were from a huge lot Dale purchased decades ago. Most were recently displayed in our Alaska home, living room, Dale's office, etc. We would lay the poster over an acid free mat, then put Plexiglass on top, and attach to the wall with mirror clips. It didn't cause any damage to the posters. Now they are down and rolled, ready to ship (a few that can not be rolled, will be noted). No Plexiglass or mats included. I'll list the size, any unusual condition, price for each. All original!! If there are tape repairs, most were done with Archival document repair tape, but some do have much older tape repair. Some had chunks missing filled in. Check the photos for most of those details. Also note that while most of the photos show the posters uneven, it is only because I had to take them at angles from a high ladder. I will list these at prices that should move them along quickly. Click on each thumbnail photo below for larger views
#10 EVERY GIRL PULLING FOR VICTORY VICTORY GIRLS WWI. 22 x 28". This poster was lightly tacked to mat with proper adhesive, but is so thin, it will not come off without more damage. Shipped on the mat. Some tape and paper repair. $125 Sale Price $95


#11 AND THEY THOUGHT WE COULDN'T FIGHT VICTORY LIBERTY LOAN WWI. Clyde Forsythe. 20 x 30". Pretty nice condition. Minor tape repair. $185 Sale Price $125


#12 OUR DADDY IS FIGHTING AT THE FRONT FOR YOU WWI. Dewey. 20 x 30". Some crinkles, minor tape. $150 Sale Price $110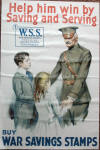 #13 HELP HIM WIN BY SAVING AND SERVING WWI. 20 x 30". This poster was lightly tacked to mat with proper adhesive, but is so thin, it will not come off without more damage. Shipped on the mat. Ripples in the poster. $125 Sale Price $95


#14 BOYS AND GIRLS! YOU CAN HELP YOUR UNCLE SAM WIN THE WAR WWI. James Montgomery Flagg. 20 x 30". This poster was lightly tacked to mat with proper adhesive, but is so thin, it will not come off without more damage. Shipped on the mat. Some crinkles. $125 Sale Price $95


#21 SAVE YOUR CHILD FROM AUTOCRACY AND POVERTY WWI. Herbert Paus. 30 x 40 1/2". Some crinkles and tape repair. $135 Sale Price $99

#22 NEW ENGLAND'S LIBERTY LOAN RECORD WWI. 22 x 28". $45 Sale Price $20

#23 HELP OUR TOWN WIN THIS FLAG 4th LIBERTY LOAN WWI. 19 3/4 x 27". Some folds and crinkles. $35 Sale Price $15

#25 HONOR ROLL 4th LIBERTY LOAN WWI. 20 X 20". Have two. Each...$30 Sale Price $15


#26 HAPPY CHILDHOOD THE WORLD OVER JOIN THE JUNIOR RED CROSS WWI. A. M. Upjohn. 24 1/2 x 37 1/2". Little tears and repairs. Fragile. Have two. Each...$95 Sale Price $50 (photographed with some Plexiglass holding it flat)


#27 MY SOLDIER SAVE AND SERVE BUY WAR SAVINGS STAMPS WWI. 28 X 44". Great graphics. Condition is rough. $95 Sale Price $50
#28 PHOTOGRAPH FROM SPECIAL FEBRUARY ISSUE FLYING WWII. 25 X 34". Some folds and chips. $30 Sale Price $15


#29 IF YOU ARE TEMPTED TO SAY "I BOUGHT A LIBERTY BOND LAST TIME AND I'M THROUGH, READ THIS LETTER" WWI. The Frank D. Jacobs Company. 19 x 23". Minor nicks. Have three. Each...$45 Sale Price $20

#30 UNITED STATES OF AMERICA WAR SAVINGS STAMPS AND THRIFT STAMPS ON SALE HERE WWI. 14 x 21 1/2". Overall excellent condition. $95 Sale Price $45
#31 DEFEND YOUR COUNTRY ENLIST NOW IN THE UNITED STATES ARMY Sale Pending WWII. Tom Woodburn. 25 x 38". Copyright 1940. Was folded at one time. Old tape repairs. $175 Sale Price $120
#33 COLUMBIA CALLS ENLIST NOW FOR U.S. ARMY WWI. Painted by V. Aderente. Designed by Frances Adams Halsted. 30 x 40 1/2". Copyright 1916. Lightweight paper. Tape repairs. $250 Sale Price $150
#35 THE HUN – HIS MARK/BLOT IT OUT/WITH/LIBERTY BONDS WWI. J. Allen St. John. 19 3/4 x 30". Printed on typical thin newsprint (paper). Fine condition. Have three of this poster. Each...$50 Sale Price $25
The last two photos are pre-restoration scans of photos taken by the restorer before she began her work. 2PP - ICONIC ORIGINAL WWII "AD ART" OIL PAINTING This is a beautiful painting of a lady done in 1944, typical of the type of models used in cigarette ads, or similar products. Dale purchased this back in the early 90's, and had it professionally restored by a lady in Pennsylvania. As I remember, she didn't need to do a lot, and did a magnificent job. She also put it in a very nice modern frame, but it is still mounted on the original stretcher frame. In the frame, it measures 27 1/4 x 33 1/4". The back has the words "AD ART / PANITED (sic) BY GEORGE HINKY / 1944". The blue ink had been blurred when the restorer cleaned the painting. We used to display this in our Alaska home. I will ship postpaid. $825 Sale Price $600



3PP - WWII PUZZLE GAME "A YANK THRU THE LINES SLIDEM SOLITAIRE PUZZLE" This is an unused game, old store inventory. About 4 3/8 x 6 3/8" packet when folded. The front shows a man playing the game, and the words "A YANK THRU THE LINES / SLIDEM SOLITAIRE PUZZLE / A GAME OF SKILL FOR (then you fill in who it is going to). The rear has "Buy WAR BONDS AND STAMPS" and some instructions below. When open, it's 13" tall. Inside are the instructions, and then the actual puzzle below, which has a copyright date of 1942. Under the puzzle, it lists "Paper Products Division / Electric Corporation of America / 222 West Monroe Street / Chicago / Copyright E.C.A. 1942". Have a few, all unused, from a lot Dale bought decades ago. Each...$25 Sale Price $15
4PP - CHARMING SPANISH AMERICAN WAR BOY ADMIRAL LITHO PRINT Sale Pending Here's another item that we had hanging on our wall in Alaska for 9 years, and prior to that in Gettysburg. I can't remember how long we have owned it. This one I will keep intact and not remove the glass, because it is tightly closed up on the back. It's also lighter weight and should be easier to tape the glass and ship as is. If necessary and upon your request, I can certainly remove it from the frame and remove the glass. This one is 15 1/4 x 28 1/2" in the frame. I see no words on the front of the print, which I assume is a color lithograph. Just a wonderful decorator item for your Spanish American War collection. $195 Sale Price $110
5PP - BEAUTIFUL VINTAGE HAIL MARY PRAYER WATERCOLOR PAINTING While not a military related item, it is a wonderful piece I would like to find a new home for. Bought this at a flea market probably 20 years ago. This is a beautifully done water color of the HAIL MARY prayer. Dainty, delicate and colorful scroll work and leaves mostly surround the prayer. 12 x 16". Was once framed, and while I'm unsure of the age, it has some minor darkening to the edges of the heavy paper mat this was painted on. The reverse shows some pencil words Hail Mary, likely practice prior to drawing and painting it in its current form. $25 Sale Price $15
6PP - NICE WWII ART DECO FRAMED "GOD BLESS AMERICA" WALL HANGING I believe this was cut from something larger and placed in a really neat, period Art Deco designed gold and black metal frame. The sign is on cobalt blue cardstock, with the words and border/stars in silvery/gold flocking. A very nice period item to hang on your wall. 8 1/2 x 10 1/2" overall. $25 Sale Price $20




7PP - AUCTION CATALOG OF DALE'S PERSONAL COLLECTION OF AMERICAN PLAINS INDIAN MATERIAL This is a 56 page + cover catalog that we produced for our December 1984 mail order auction of Dale's personal collection. Lots of wonderful photos both black & white and color, and great information. Also included is the prices realized sheet, which also listed unsold items at fixed prices. Only have a few copies left. I will send via Media mail. $18 each




8PP - AUCTION CATALOG OF DALE'S PERSONAL COLLECTION OF WILD WEST MATERIAL, INCLUDING GEORGE CUSTER AND OTHERS This is a 100 page + cover catalog that we produced for our May 1985 mail order auction of Dale's personal collection. It included many items from the 7th Cavalry, famous Western, Military and Political figures, and some Indian material. Mostly black & white photos, and a few color. Tons of information on some very important items. Also included is the prices realized sheet. Only have a few copies left. I will send via Media mail. $25 each



9PP - AUCTION CATALOG OF DALE'S PERSONAL AVIATION COLLECTION This is a 93 page + cover catalog that we produced for our October 1990 mail order auction of Dale's personal collection. It consisted of a large variety of aviation material, including 50+ painted leather jackets. Lots of black & white photos, and color photos of the leather jackets. Also some great and interesting information. Also included is the prices realized sheet. This is an invaluable reference catalog. $25 each
10PP - HISTORIC 1830 NEWSPAPER ANTI-MASONIC HERALD "The Anti-Masonic Herald, and Lancaster Weekly Courier", Lancaster, Pennsylvania. Friday July 23, 1830. Volume III. No. 6. 22 x 30", folded in half, giving 4 print pages. Filled with picturesque advertising and notices, and several editorials and news items, most exhibiting the paper's clear and certain anti-Masonic sentiments, boldly inserted in their reporting on most situations and incidents reported. A trial is said to have been decided in favor of a mason, George Washington is said to have denied active membership in the masons, and many other examples. Paper shows wear and some parting on folds. Entirely legible. Fascinating reading. Illustrative of the rabid anti-Masonic sentiment which existed at that time in the country. $20 Sale Price $10
11PP - A GREAT STATIONARY KIT JUST FOR THE SOLDIER IN THE FIELD Sale Pending Closed, it measures 7 1/2 x 9 1/4". It folds in three sections, and opens up to 22 3/4" wide. The main eye-opener is the blonde bombshell that awaits the soldier as he opens up the kit to write a note or letter. The kit is titled "Thinking of You / STATIONARY KIT" and has a soldier sitting on his trunk, looking a bit wistful as he gets ready to write a letter. Included are 10 Air Mail envelopes, 10 plain envelopes, and a stack of blank paper with a cover sheet stating there are 50 sheets and 20 envelopes. Also states "WHAT EVERY SERVICEMAN NEEDS FOR HIS WRITING PLEASURE". Inside one flap is a place for Addresses. Made by BELL ENGRAVING CO. INC. NEW YORK. Great display piece! Never used, but shows minor handling and storage wear. $45 Sale Price $30
12PP - 1940's 4TH OF JULY PATRIOTIC CHAPEAU STYLE HAT 15" long. Expands like an accordion. Top has crepe paper which when pulled apart, expands. Red, white and blue sides are thin card stock. Excellent. $15 Sale Price $10
13PP - NEAT PAIR OF WWI PATRIOTIC AIRPLANE & EAGLE PAPER CAPS All red, white and blue, in heavy paper. Looks like they would fit most adults (but we don't recommend wearing). 11 x 6" flat. Tops have circular star insignia against red and white stripes. Ends have blue vertical bands with white stars. Headband is different on each. One has WWI airplane, the other has a flying eagle. Unused condition. Great for display. Both...$20 Sale Price $15
14PP - WWII "V" FOR VICTORY CARDSTOCK HAT Folds flat. Red/white/blue with large silver "V" stapled on. Red/white/blue crepe paper accordion top. 11 1/2" wide across front x 4 3/8" tall to top of "V". Excellent condition, with some age darkening and minor wear. Great for display. $15 Sale Price $10
15PP - WWII VICTORY CARDSTOCK HAT Sale Pending 1 1/4" wide forming a red, white & blue band which goes around the head...size approximately 6 7/8. Attached, so it stands in front of and higher than the band, is a silver foil-faced, die cut "V FOR VICTORY". Near new condition with one bend in the V. Great for display. $15 Sale Price $10



16PP - OUR FLAG LITHOGRAPH - COLUMBIA RODE THROUGH THE STORM My guess is this was made 1890's. The Litho company name from Philadelphia in the lower right, has been mostly obliterated. Not sure if it was deliberately or accidentally rubbed. 17 1/2 x 21 3/4". It was in a frame behind glass until recently. This is a very nice rendition of the United States flag on a flagstaff, towering above the clouds, some which look dark and nasty, and the other part is a blue sky. Dramatic. The words below are "COLUMBIA RODE SAFE THROUGH THE STORM" and "OUR FLAG" below. Some minor staining only in the white border areas. I will ship this rolled. $50 Sale Price $25
17PP - BEAUTIFUL WWII V FOR VICTORY POSTCARDS BY TECHNOR (Have various amounts of each shown...all unused store inventory). The graphics on these are just wonderful. All copyrighted 1941. Each $10 Sale Price $8
A.



B.



C.



D.



E.



F.



G. Sale Pending
H.



I.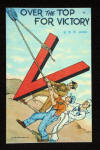 J.



18PP - 1943 COCA COLA DECK OF CARDS, MINT IN BOX April 1, 1943 WWII cards, mint in box. The seal has been opened, but the cards are mint and do not look used. Backs and the box has has a young lady in a circular window, as if seeing her in a mirror. Coke bottle sits just under the portrait. There are two different women depicted; one is a WAC with air corps wings behind the bottle; the other is a well dressed lady with autumn leaves surrounding her photo. We obtained a lot of these original stock from the Schneir collection auction, many years back. Has Joker and a card with Coke masthead giving bridge scoring; also the title AUCTION BRIDGE on one card. Box will show trivial handling. Cards are mint. Coke symbols in and out. WAC...$35 each Sale Price $22 Lady Autumn Leaves...$30 each Sale Price $20
20PP - WWII RANGERS and COMMANDOS COLORING BOOK 10 1/4 x 15". Covers have full color illustrations showing soldiers racing through the water, off a ship, bombs going off, American and British flags at the top. Inside front cover shows this was published by the Merrill Publishing Company, Chicago, Illinois, copyright 1943. Two pages loose from the staples at the very middle, otherwise, all others seem intact. Many of the pages have been colored, but there are many that haven't been. Overall for its age, and the fact that kids had their hands on it, it's in really good condition. $30 Sale Price $20
21PP - ORIGINAL FRAMED OIL PAINTING "SPRINGTIME IN NEW MEXICO" by SULLIVAN We have owned this painting since 1982. Unfortunately, I don't know where Dale acquired it, but we did a lot of antique shows and antique markets, partly as our business and partly because we loved buying antiques for our home. I'm in the process of downsizing, and hoping this great painting finds a great new home. Total size size in the frame is 23 x 28 3/4". Wonderful colors of the southwest, and a very well done painting. Not sure when this was done, but I'm guessing it was in the 70's. The back of the 18 x 24" canvas panel has written "GENUINE OIL PAINTING BY SULLIVAN / SPRINGTIME IN NEW MEXICO". Have no more information on this artist. $195 Sale Price $100


22PP - 19th CENTURY CHROMOLITHOGRAPH "THE BATTLE OF LAKE ERIE" Another item we had displayed on our wall in Alaska, and no doubt something Dale had tucked away for years. 16 x 23". I removed it from a heavy frame, and will ship just the litho. The only markings I see are in the lower left corner - "STROBRIDGE & CO. CHROMO, CIN. O". Overall excellent condition, a bit toned down, but quite an impressive scene. The rear of the litho shows a lot of yellowing, probably from being framed on an acid mat. Only one very small cut on the edge, with some old tape. A framed one sold at Cowans in 2011 for $382. My price is...$175 Sale Price $100


23PP - WWII AIRCRAFT IDENTIFICATION FLASH CARDS Used to teach aircraft identification to Ground Observer Corps members - people who during WWII kept a constant look at the skies. The same cards were used in combat theaters as well to teach aircrews, ground observers, gunners, etc., how to identify enemy aircraft. These cards are originals and are mostly 4 x 5'', white cardstock, printed in black, showing three views of each aircraft. These came from the Albany Air Region Ground Observer Corps. This is a nice sampling of the cards used. Have set of 18 different... $15 Sale Price $10
24PP - EARLY MAIL ORDER CATALOGS We've had these in our library for so many years. It's great to look through these time capsules. Media mail is the least expensive and can take 2+ weeks.
A.
SPIEGEL INC. 1938 Catalog #146, Chicago, Illinois 507 Pages $15 Sale Price $10 Sale Pending
B, C. SOLD
D.
BUTLER BROTHERS 1931 Chicago, Illinois 428 Pages $15 Sale Price $10 Sale Pending
E.
SEARS, ROEBUCK 1908 Reprint of Catalogue No. 117 Chicago, Illinois $18 Sale Price $10


25PP - SPANISH AMERICAN WAR PATRIOTIC REMEMBER THE MAINE PAPER SHOPPING BAG! Featuring UNCLE SAM. Amazing original item. Heavy manila paper bag, with facing side decorated with a 5¼" tall cartoon. This consists of the figure of Uncle Sam, flanked by a soldier and a sailor, each pointing to the banner arching over Uncle Sam. It reads "WE HAVE REMEMBERED THE MAINE". Probably given out just after the War ended. The grocer's name and address is printed below "W. D. MELLEN, ATHOL, MASS.". A splendid and rare patriotic Homefront item. Never used; just has some storage and age darkening. 10 1/2 x 15". Have only one... $40 Sale Price $20


26PP - ANOTHER REMEMBER THE MAINE SHOPPING BAG Has been used, but very good. Has a few little tears around top. A pencil inscription was put on back but has worn away. 10 1/2 x 15". Have only one... $30 Sale Price $15
27PP - DECK OF CIVIL WAR PLAYING CARDS Some online info these days say Belgium cards were made for later periods, however when Dale purchased these probably 45 years ago, this was the information he was able to ascertain. In any case, these are super bargains. Excellent unused condition in original paper wrap. Cardstock on which they were printed is a bit thicker than later cards. Typical inexpensive cards of the period. No numbers on the cards. Value of the card is indicated by number of times the suit is repeated on the card...i.e. 3 hearts is a 3-of-hearts. Nice colored paper wrap with label (blue or red), unopened, but wrap may be torn or have parted edges. Reads "GREAT MOGUL SUPERIOR CARDS". These were made in Belgium for English speaking trade. Each Deck...$50 Sale Price $35
28PP - A GREAT GROUP OF PICTORIAL UNIFORM IDENTIFICATION ITEMS These were part of Dale's reference library, which I believe he purchased in the mid-70's, others are from the mid-60's. They are just such wonderful items to use for verifying uniforms, and they are also fantastic artwork pieces. 1. The group of 11 separate binders (44 plates in all), all sold at the same time, are entitled "UNIFORMS OF THE UNITED STATES ARMY Paintings by H.A. OGDEN". Each binder (14 1/2 x 17") has four prints (just a tad smaller) and a cover sheet that describes the history of that period uniforms and use. The set begins with 1774 and ends with 1888. You may be able to find one binder for sale, but not all eleven at one time. 2. This group is in a large yellow binder (17 x 20", a bit crumpled from handling) and contains twelve beautiful prints and a brochure describing them. The set is entitled "Uniforms of the United States Navy 1776-1898 / (seal) DEPARTMENT OF THE NAVY UNITED STATES OF AMERICA / NAVAL HISTORY DIVISION / OFFICE OF THE CHIEF OF NAVAL OPERATIONS / WASHINGTON D.C. 20360 / 1966". The prints have the artist's name H. Charles McBarron at the bottom of each. 16 x 20" and great for framing. 3. Also included is a large hardcover book (13 1/2 x 17") entitled "UNIFORMS of the UNITED STATES ARMY / Second Series / Paintings by Henry Alexander Ogden / Text by Marvin A. Pakula". This book was copyright 1960. The inside cover states this volume (second) comprises the final twenty six full color paintings of U.S. Army uniforms by Henry Ogden, for the period 1888 - 1907. Just full of information. All items are in mint to near mint condition, other than the dust jacket for the book, which is a bit tattered. $195 for all Sale Price $100





29PP - 8 SETS "THE AMERICAN SOLDIER" PRINTS Another group of items from Dale's reference library. Just want to sell all together as one lot. 9 x 12 3/4". These sets were published by the Government Printing Office during the 1960's, in different sets sold separately, depicting soldiers and uniforms from the 1700's through 1963. Each group has its own booklet describing each print. It states that "The enclosed full-color reproductions of painting are..." There are a couple duplicates. A couple sets were wet along the side, some time in the past, so now they are obviously damaged. Most are in excellent to near mint condition. A few were tacked up some time in their past, and others have no holes. $75 for the lot Sale Price $50
1. 10 prints, 1775 through 1965. Water damage.
2. 10 prints, 1776 through 1975. Near mint.
3. 10 prints, 1780 through 1966. Near mint.
4. 10 prints, 1781 through 1855. Water damage.
5. Same as #4. Near mint.
6. Same as #4 & 5. Near mint, with a few tack holes on some.
7. 10 prints, 1863 through 1963. Some water damage.
8. Same as #7. Excellent condition. Each corner has tack holes.





30PP - TWO BEAUTIFUL SETS OF PRINTS - REVOLUTIONARY WAR SOLDIERS AND EARLY NAVAL VESSELS Dale bought both of these sets in 1975 from the Government Printing Office. Both come with their original mailing envelopes. 1. The first set is entitled "SOLDIERS OF THE AMERICAN REVOLUTION Published by Center of Military History, Department of the Army". There are 10 prints, 17 x 22", 1974 date on the lower corner of each print. These are just beautiful and great for framing, all in near mint or better condition. 2. The second set consists of 20 prints of 1700's naval vessels of all manner. The prints seem to be reproduced from various artists and oil paintings. The bottom of each print has "Naval History Division, Department of the Navy, Washington D.C.". These are also near mint or better. Would be great for framing. Comes with the original mailing envelope with a date of 9-2-75 delivery attempt. Both sets for $200 Sale Price $100




31PP - HUGE 1940's UNITED STATES MAP WITH LOTS OF INFORMATION Believe this is WWII 1940's period. There is no date, unfortunately, but going by the information listed, it just makes sense it is from the 40's. If you look closely at some areas in each state, you can also determine what areas exist now that didn't exist then, and figure some of it out. A whopping 41 x 54", folded in storage down to 10 1/4 x 13 1/2". Printed on heavier paper, it's in really great shape overall with some parted areas along the folds. This map consists of a huge United States in the main portion, along with a smaller U.S. showing Air Mail routes, and another showing Minerals and Agriculture. Other boxes show states and territories. The main text box has a large "UNITED STATES / Produced under the direction of Alexander Gross, F.R.G.S. / PUBLISHED BY / GEOGRAPHIA MAP CO. 11 John St., NEW YORK". Below that are references for Railroads, Canals, Scenes of Battle. Tons of info on this map; it is quite large, and will need space to display it. $25 Sale Price $15
32PP - FOUR WWII PAPER ITEMS Sale Pending One is a map entitled "WORLD BATTLE FRONTS". The other three are booklets, "The Automobile USER'S GUIDE WITH WARTIME SUGGESTIONS", "Your Place in the Post-War World", and "TOOL OF PEACE / SOAP / WEAPON OF WAR". All in excellent condition, showing some mild age and use. $20 for all Sale Price $10
33PP - VICTORY RUMMY - DECK OF PLAYING CARDS WITH WARTIME GRAPHICS The original box is RWB, with big letters "VICTORY, code for V, RUMMY...". Comes with leaflet with all the instructions, copyright 1942. Also comes with original VICTORY (..._ V) RUMMY OFFICIAL SCORE PAD. Full deck. Instead of suits, it has dots and dashes (from ..._V), V's, and some cards with characature of Hitler, Tojo, or Mussolini...the Axis allies. Fine condition. Backs of cards have vertical red, white, blue bands with flying eagle at center with lightning bolts coming from its talons. There is minor wear to the box, and a pushed in spot just about in the middle, but is still intact and not real noticeable. $65 Sale Price $35
34PP - WWII DECK OF AVIATOR PINOCHLE PLAYING CARDS DATED 1945 Dated "Oct. 22 1945, Aviator Pinochle Playing Cards". A gift to the G.I.'s from the Red Cross. The box is all red with red cross on white square. The other side says "For use of U.S. Government Permit No. 1". Mint deck. Box is excellent, with some rubs and small open seams at top. $50 Sale Price $25
35PP - WWII VINTAGE EMBOSSED PAPER TABLE CLOTH 54 x 72". Patriotic and Military designs the full length. Eagle / Shield - Anti-aircraft guns, red, white, blue looping edge designs. Folded. In original cellophane wrap (a bit ragged). Never out of the packaging. Has original label by Beach Products, Inc. Kalamazoo Michigan. Paper is embossed to give it the look of fabric. The tablecloth is in mint, unused condition. $35 Sale Price $15
THERE ARE CIVIL WAR CONFEDERATE BONDS IN THE MEXICAN-CIVIL WAR SECTION - PLEASE CHECK THEM OUT IN THAT SECTION.
36PP - IMPORTANT ORIGINAL CIVIL WAR NEWS MAGAZINES Representative sample shown A weekly, profusely illustrated publication, and the second most popular national periodical during the War. "Frank Leslie's Illustrated Newspaper". We acquired a good number of these from 1862 to 1864, and will sell them, as they come. These are roughly 11 x 16", and 14-16 pages (7-8 sheets). Filled with War news and pictures, as well as great advertising, from medicines, corps badges, I.D. tags, gun, and mess kits. Papers are all used showing handling…they were probably read by several family members, then saved. Folded edge will have some generalized shallow fraying as they were once bound. See what the people saw in the way of their most trusted news coverage. Offered at half our price several years ago. Each…$15 Sale Price $12 Buy 5 or more…$10 each Sale Price $6 each ALL Sale Pending
37PP - THE MOST IMPORTANT CIVIL WAR NEWS MAGAZINE Representative sample shown "Harper's Weekly - A Journal of Civilization", 16 pages (8 sheets), 11 x 16", profusely illustrated, always filled with War news, as well as fiction, small anecdotes, and fascinating and useful advertising of many soldier related items, for instance tobacco pouches, binoculars, mess kits, stationary, I.D. and corps badges, guns and more. Center usually has full 2-page picture of latest action of interesting event. Very good condition. Spines will show some wear and possibly shallow fraying from having once been bound in a book. No Civil War collection can convey the essence of the War and the times, without some of these…they held the images through which the population saw the War. This lot was actually subscribed to and collected by a Massachusetts soldier, Lt. George A. Reed, Mass Minuteman (6th) and the 26th, who served 1861-65 and who survived passing through the Baltimore Riots which decimated his regiment. These date 1862-1865. They are all equally excellent and interesting. As they come…Each $15 Sale Price $12 Buy 5 or more…$10 Each Sale Price $6 each ALL Sale Pending
38PP - CIVIL WAR NEWSPAPERS "THE NEW YORK HERALD"...BUY ALL FOUR FOR $50, or individually priced below ALL Sale Pending
February 2, 1865. Highly important issue heavily covering the Peace Mission at Ft. Monroe where Confederate Vice President, etc. met Secretary Seward's party. Much of first page quotes Richmond newspapers. Also report of Cabinet changes at Richmond. Inner pages enlarge on the coverage and editorialize. Also report of Passage of the Constitutional Amendment outlawing slavery with related activity. Back page has war news from Sherman, Wilmington, Conley, and on the Draft. 8 pages, 15½ x 22". Clean. Shows some use and has some parting on the spine. Unusually important content. $25 Sale Price $15

February 7, 1865. Reports the results of the Peace Mission at Ft. Monroe, as well as including long quotes from Richmond newspapers which give their reaction. Also has short report from Sherman. Inside has long summary and analysis of the current war situation, plus considerable reporting from the various theaters. Short pieces on the draft and the unsuccessful attack at Petersburg crater explosion. 8 pages, 15½ x 22". Clean. Some parting on spine. $25 Sale Price $15

February 21, 1865. Main front page headlines and coverage…Sherman…ground climax of the Campaign in South Carolina…Charleston evacuated by the Rebels…the birthplace of Treason in our hands…Sherman marching in Charlotte…evacuation of Richmond…Progress. Grant…exchange of prisoners on the James (with reports of their treatment). Center pages include summary of situation, reports from other theaters and pieces on the South to include that Virginia decided to arm Negroes. Reconstruction matters already being considered in Congress, before War ends. 8 pages, 15½ x 22". Clean. Little parting on spine. $25 Sale Price $15

February 24, 1865. The South crumbles and the reporting covers the many fronts which have or will soon be overrun. "Sherman…has massed columns Still Marching On.". "The South…North Carolina overrun". "The Last and Grandest Campaign Now in Progress". Many small pieces from varied places. Richmond papers quoted. General news gives sense that events already going into post-War mode. Clean. 8 pages, 15½ x 22". Paper very slightly toned. $20 Sale Price $10
39PP - VERY IMPORTANT ORIGINAL CIVIL WAR MILITARY NEWSPAPER – "THE ARMY NAVY JOURNAL – GAZETTE OF THE REGULAR AND VOLUNTEER FORCES" This paper features all War news, all of the time. Nothing could be more pertinent to the Civil War collector. These papers were eagerly awaited and read by all armed forces in the North, and more so, in the South, to learn the latest on all campaigns throughout the country…the big picture. We have a very few copies we've been hoarding for years. Fine, clean copies. 9¾ x 14¼", 16 pages. Spine shows signs of having once been bound. Gorgeous eagle/shield masthead. BUY ALL THREE FOR $50, or individually priced below ALL Sale Pending
Saturday August 6, 1864. Superb and detailed report of Grant's moves at Deep Bottom and vicinity; one of the best reports in the Petersburg Mine, its construction, explosion, and the disastrous fight after. Then there is Sherman's Operations – plus analysis of mines, Monitors, breech loaders, more. Also has personnel matters, editorials, and too much more to list. Last page is filled with fascinating military goods advertising. Clean. Excellent. Spine worn at edge. $35 Sale Price $20

Saturday April 30, 1864. Action in North Carolina - Forts about Roanoke were assaulted as were the Federal gunboats, which were defeated – a report on fighting Navajos in New Mexico – a very long and detailed analysis of Ironclad design and use to date – more than a page of recommendations for inexperienced officers, on how to perform their duties – list of Court Martials with several to be shot or hanged – more – good advertising. Spine has some fraying along edge from having been removed from bound book of issues. Clean text. $25 Sale Price $15

Important Double Issue "Army-Navy Journal Supplement". February 20 & February 27, 1864. Issued in addition to the usual weekly issue, and as large as them, for the purpose of publishing in full, General McClellan's report on the organization of the Army of the Potomac, and its campaign in Virginia and Maryland, July 26, 1861 to November 7, 1862. This was published in book form, available for public purchase and copies sell for over $700. This was the public's opportunity to secure the same information at a fraction of the book's original price. Each of these supplements are 16 pages, the same size as the regular A-N Journal. Unfortunately, the bulk of the text ran very slightly longer than the 32 pages of the double issue supplement, and so the closing words were printed in the next regular issue. This we do not have. However, these two contain virtually the entire record of all correspondence between McClellan, the President and the Secretary of War. Believe Custer had a large part in assembling this report. Excellent clean condition. Spine worn at edge. $45 Sale Price $20
40PP - CIVIL WAR GENERAL N. P. BANKS CABINET PHOTO 1880 period photo. Splendid portrait of an important General and politician. Born in Waltham, Mass. Beginning as a factory worker, he studied law, and became successively a member of the state and national legislatures...Speaker of Congress 1856, then Governor of Massachusetts in 1861. In the Civil War, he commanded on the Potomac, and is known later for his capture of Port Hudson. Member of Congress until 1873. Crisp portrait by Warren's of Boston. Few pale spots of foxing at edge of card. Important Civil War General. Came from an exquisite album of top government, military and celebrity photos. The accompanying handwritten name was clipped from the page in the album (not his signature). $35 Sale Price $20
41PP - PACKET OF CASH USED IN THE PHILIPPINES DURING THE JAPANESE OCCUPATION The Japs threw us out of the Philippines very early in the War, and weren't removed until very late in the War, after some of the most violent and costly battles of WWII. These packets recall MacArthur's "I shall return". Only after we reoccupied the Philippines did the money end its usefulness and was turned in, hopefully in exchange for something equally useful. Several bills show ink stamp markings indicating some sort of collection and exchange by a government entity. Fabulous collectibles from the Pacific Campaign, and the Japanese Occupation of the Philippines. These are original packets containing approximately 50 bills. Same size and type of engraving as US bills. 2 3/4 x 6 1/4". The words "THE JAPANESE GOVERNMENT" run across the center, over the denomination. There is one 100 peso bill, the rest being mostly 10 peso notes with an occasional 5. Some ink stamped in oval "Japanese War Notes/received for Safe Keeping/Association of the Philippines". Bills run from about new to well used. Super neat items. Each packet...$25 Sale Price $18 Buy two or more...$20 each Sale Price $15 each
42PP - BOOK - FIREARMS OF THE AMERICAN WEST 1866-1894 (v. 2) [Hardcover] second printing, by Charles G. Worman & Louis A. Garavaglia Sale Pending We just purchased this, mistakenly thinking it was a different book. Dale already has both volumes, and highly recommends you get both. Publication Date: February 1, 1998. This is the second volume of a two-part study of firearms in the nineteenth-century American West. It traces the development of the firearm from the close of the Civil War to the beginning of its modern era, marked in 1894 by the initial army issues of a new high-velocity bolt-action rifle designed for smokeless-powder cartridges. The Winchester Model 1894, a civilian arm adapted for smokeless-powder ammunition, also appeared at that time. Within this period, the authors have discussed all the important military and civilian firearms used in the settling of the West, as well as the guns favored by Indians. As in the first volume (1803-1865), this study is encyclopedic in its detail on rifles, shotguns, and handguns and again draws on advertisements from newspapers, catalogs, and other primary sources as well. Over five hundred photographs illustrate the weapons and the famous and now-forgotten men and women who used them. This lively and thoroughly researched book examines guns as a integral part of the frontier experience in a society where peace officers and judges were few. As one Texas ranch foreman observed, "The fear of the law is not half so great as the fear of a bullet..." Condition is very lightly used, excellent+ condition. The pages are white, but my photos have shades of pink due to poor lighting. $50...Will ship postpaid Sale Price $75
44PP - FIVE MILITARY WWII RECOGNITION MANUALS - Aircraft, Armored, Navy, Pumps, Original 1943 All for $95 Sale Price $65
1. "RECOGNITION PICTORIAL MANUAL ON ARMORED VEHICLES / RESTRICTED" 1943. 110 pages, 6 x 10 1/2". Has sections forUSA, Britain, USSR, REICH, ITALY, JAPAN. Tons of photos, silhouettes, and important info for each vehicle.
2. "MISCELLANEOUS AIRCRAFT" 1943. 6 x 10 1/2". Has sections for U.S.A ARMY, U.S.A NAVY, U.K., REICH, JAPAN, ITALY,USSR. Tons of photos, silhouettes, and important info for each airplane.
3. "RECOGNITION PICTORIAL MANUAL / WAR DEPARTMENT / NAVY DEPARTMENT / RESTRICTED" 1943. 6 x 10 1/2". Inside page also has "AIRCRAFT SUPPLEMENT No. 1". This one has sections for U.S.A. ARMY, U.S.A. NAVY, U.K., REICH, JAPAN, ITALY,USSR, MISC. Cover on this one a bit flexed, but intact. Tons of photos, silhouettes, and important info for each airplane.
4. "RECOGNITION PICTORIAL MANUAL OF NAVAL VESSELS / WAR DEPARTMENT / NAVY DEPARTMENT / RESTRICTED". 1943. 6 x 10 1/4". This one has sections for "U.S., U.K., JAPAN, REICH, ITALY, MISC. Tons of photos, silhouettes, and important info for each ship, boat, destroyer, etc.
5. "INSTRUCTIONS FOR THE OPERATION AND MAINTENANCE OF PUMPS / UNITED STATES NAVY DEPARTMENT / BUREAU OF SHIPS / 1943". Tons of information and diagrams, and a pull out chart. Dog-eared and rumply, but still intact with some great information for the time.
45PP - ENVELOPE WITH 1943 5 CENT PHILIPPINE ISLAND JAPANESE OCCUPATION NOTE(s) This is a 3 x 4 1/2" wide tan color envelope, with the words (in part) "BILL NO. C-3 / Contains: 1943 5 c PHILIPPINE ISLAND / JAPANESE OCCUPATION NOTE / (explanation of how the notes came about) / Net Price $ .20 / TATHAM STAMP & COIN COMPANY / STAMPS Importers - Retailers COINS / Springfield, Mass.". I think originally this envelope only had one note, but there are seven 1 Centavo notes, three 5 Centavo notes, and one 10 Centavos note. $15 Sale Price $10
46PP - WWII U.S. MAIL ENVELOPES (COVERS) Click on each thumbnail for close up view Can't reduce further


A. 1945 Cover An original WWII envelope sent through the postal system. Has a cancelled 3 cent stamp and was postmarked Cleveland, Ohio Jan 30, 1945. This envelope is a bit larger than most at 4 x 7 1/2". The reverse has a stamp and a lot of numbers and letters, perhaps a union member, not sure. $3
B. 1945 Cover An original WWII envelope sent through the postal system. Has a cancelled 3 cent Florida Centennial stamp, and was postmarked Louisville KY April 16 1945. The rear of this envelope is sealed shut. $4


C. 1945 Cover An original WWII envelope sent through the postal system. Has a cancelled 3 cent U.S. Navy stamp, and was postmarked Nashville, Tenn Dec. 4 1945. Tiny tear to envelope at right of stamp. $3
47PP - NEW CIVIL AIR REGULATIONS BOOK OCTOBER 1945 8 1/4 x 10 1/2", with heavier cardstock covers. "Examination Questions and Answers" and "For all Grades of Civilian Pilots". Also on the cover "WE KEEP 'EM FLYING with FLYING ? QUESTIONS / UP-TO-DATE AS A WEATHER REPORT". The first page inside lists the title as "NEW CIVIL AIR REGULATIONS / FOR ALL CLASSES OF CIVILIAN PILOTS / WHICH BECAME EFFECTIVE JULY 1st, AND AUGUST 1st, 1945". 45 pages. All intact, in solid condition. Some foxing and the pages are browning in spots. $10 Can't reduce further
48PP - TWO WWII CHILD'S MILITARY CUT AND PASTE BOOKS Full color graphics on these neat children's books from WWII. There are ships, tanks, jeeps, planes, lots of action graphics. 1. 1943 "PUT TOGETHER AND PASTE WITHOUT PASTE" and "PLANE TANK JEEP SHIP" on the cover. Copyright 1943 by The Saalfield Pub Co. in lower left. Inside, all the pieces have been pasted in. There are other pages to color, and have not been touched. 10 x 12 1/2". 2. 1942 "CUT AND STICK / MAKE PICTURES / No Paste Needed" and "Our ARMY AND NAVY in Action" on the cover, plus company information lower left, kind of hard to make out. Inside cover has instructions, and copyright 1942 date at bottom, from the Merrill Publishing Company, Chicago. All the pieces have been pasted in. There are other blank pages. 10 1/2 x 13 1/4". Gently used condition, but still in great shape. Wonderful display pieces. $40 Sale Price $20
50PP - 2005 THE GUN REPORT 50 Years, Volume 51, Number 1 1955-2005 50 year edition of this very popular, and long running publication. Very good condition overall, no dog ears, no marks or highlighting. "The GUN REPORT Volume 51, Number 1 June 2005 / $10.00" - "50 Years Serving Firearm Collectors Around the World 1955-2005". $4 Can't reduce further
51PP - WWII 1944 SOLDIER "WELCOME HOME" PAPER SIGN I believe this was intended for use at home parties, or very small homecoming celebrations. 12 1/2 x 19". Wonderful large red, white and blue letters WELCOME HOME. Bottom of the face has large panel for G.I.'s name to be written in, in crayon. Bottom right has the words "COPYRIGHT 1944 BY PARENTE & PERLMAN". Very decorative. Surely an event which brought many tears. Never used. Just needs to be flattened or lightly ironed. $15 Sale Price $10




54PP - SIX GOFF & FISKE PHOTOS OF INDIAN WAR OFFICERS + FORTS These are quite crisp black & white glossy photos Dale had sitting in a pile for some years; not sure where he found them originally, but he always had things like this around for reference. They were in modern frames with glass, insignificant and cheap, so I took them out and tossed the frames for easier shipping. They are all copies of original photos from the archives of the State Historical Society of North Dakota. I will list each one from left to right as shown: All for $40 Sale Price $20
1. "A-1942 LT. WM. REILY 7TH CAVALRY FORT LINCOLN, D.T. CA: 1875 PHOTO BY ORLANDO SCOTT GOFF Credit: State Historical Society of North Dakota". 7 x 9".
2. "A-5138 A CORPORAL IN THE U.S. ARMY---FORT PEMBINA---STATE HISTORICAL SOCIETY OF NORTH DAKOTA". 7 x 9".
3. "FISKE #2478 UNIDENTIFIED SOLDIER FORT YATES, N.D. PHOTO BY FRANK B. FISKE/FORT YATES". 7 x 9".
4. Lower right corner of photo is written "15th Inf Band taken at Fort Buford". Rear "B-1026 STATE HISTORICAL SOCIETY OF NORTH DAKOTA". 8 x 10". Wonderful crisp view of musician soldiers and some great musical instruments.
5. "FISKE #363 FORT YATES INFANTRY BARRACKS & SOLDIERS PHOTO BY FRANK B. FISKE/FORT YATES". 8 x 10". Crisp outdoor view of soldiers at attention, with rifles on their shoulders.
6. "FISKE #2796 Unidentified Cavalry Officer--Fort Yates, H.D. CA: 1900 PHOTO BY FRANK B. FISKE/FORT YATES, N.D. / CREDIT: STATE HISTORICAL SOCIETY OF NORTH DAKOTA". 7 1/4 X 9", attached to a grey mat board.
55PP - 1922 CALENDAR LADY STANDING IN CORN FIELD Very nice and complete wall calendar from 1922; never used. Has a photo of lady standing in a very healthy cornfield. Below is the calendar under a flip top. Total size is 5 7/16 x 9 1/4". Has little cloth hanging tab at top. $10 Sale Price $5
56PP - D-DAY + 50 YEARS 1994 POSTER This poster measures 20 x 30". Found it in a long stored box of old inventory. It's been rolled, as you can see in the photos, and has some minor flattening while rolled, which should smooth out if framed. This poster was made in 1994 to commemorate the 50th anniversary of D-Day, and declares "A GRATEFUL NATION REMEMBERS - NORMANDY 1994". It has photos from various places and services during the War. $15 Sale Price $10
57PP - AMAZING WWII PROMOTIONAL COFFEE ADVERTISING PACKET This is an entire unsolicited proposal sent from a company which designs advertising and prints packaging, to a company which sells coffee. The folder itself is 9 1/2 x 12 1/2" tan cardstock, with a red, white and blue shield with eagles, and "Coffee goes to War". A very excellent sales letter explains the proposal, and includes sample packaging in an 8 x 12" photo and three actual full color sample packages. The company is "CONTINENTAL BAG SPECIALTIES CORPORATION, Hudson River & 27th St., New York, N.Y. There is a little card within the letter that has typed the name of the coffee seller (L. Hughes & Son, 3 Myrtle St., Pittsfield, Mass), so they can easily mail a reply. To quote just the brief introduction of the proposal, it is easy to see how effective the proposal could be to introduce patriotic themes: "COFFEE GOES TO WAR...And take a look at the "Armor" it's wearing! Here is our answer to Uncle Sam's call for patriotic packaging - our newest Victory Design!....The design that SHOUTS Victory - shrieks DEFIANCE to the enemy - FIGHTS for Victory...and withal...PROMOTES GOOD WILL FOR COFFEE!, etc., etc.". "P.S. May we submit a layout which will turn your present coffee bag into a Patriotic Coffee Bag without losing any of its present identity? Just send us a sample and check the above card." Enclosed in the folder are three suggested sample patriotic bags plus an 8 x 10" photo. Condition shows storage darkening and fading/foxing, and some slight handling. Really links today to the days of WWII. $50 Sale Price $30
58PP - VIETNAM BOOK "QUOTATIONS FROM CHAIRMAN LBJ" Sale Pending Copyright 1968, Fifth Printing, Simon & Shuster. 3 5/8" x 5 1/8", 189 pages. The book is tight, and appears to have not been opened and read. Shows handling wear to the covers. $15 Sale Price $10
59PP - 1942 SHEET MUSIC FOR "The Song Of The SEABEES" "Dedicated to the SEABEES Construction and Fighting Men of the UNITED STATES NAVY" and "Printed for complimentary distribution by Bureau of Yards and Docks, United States Navy, by "ROBBINS MUSIC CORPORATION...". Great cover art with Seabees emblem at center, large and in color. It looks like someone folded it to put in a pocket once, but now flat in storage for many years. $10 Sale Price $5
60PP - WWII AIRCRAFT WARNING-GROUND OBSERVER CORPS MAGAZINE Monthly magazine sent to all posts, providing news of activities, articles on improving skills, contests and tests, news from various posts, lost of illustrations, and photos, all related to aircraft recognition and the official organizations created to defend our coastline. Mint condition. 9 x 12". 16 pages. Dated April 1944. Have 4. Each...$5 Sale Price $3
61PP - ALUMINUM IN AIRCRAFT - BASIC INFORMATION ON ITS USE Soft cover. 114 pages plus covers. Front cover is loose. From the Aluminum Company of America, Pittsburgh, PA 1943 (ALCOA). Apparently, everything you need to know about aluminum for aircraft construction. Has some great photos. $12 Sale Price $5
63PP - 12 WWII MILITARY PRINTS OF PAINTINGS BY BEAUMONT Double sided, 24 views. This 6 3/4" x 10" set is from the National Geographic Society, and consists of 12 pages, all loose, double sided, with prints of original paintings by Arthur Beaumont. Each page has at the bottom, "National Geographic Society", a title for that scene, and "Painting for Arthur Beaumont". I don't know where these came from originally, but found them in a stack of similar paper items from Dale's office. These prints are Naval, Aviation, Pilots, Army soldiers, all manner of fighting scenes and equipment. Fascinating set, with great graphics. $10 Sale Price $5
64PP - UNUSED BOX OF WWII PATRIOTIC STATIONARY AND ENVELOPES Sale Pending 30 patriotic envelopes and 30 (I count 31) pages of writing paper. "20 DIFFERENT PRIZE WINNING DESIGNS AND SLOGANS THAT WON IN A NATIONAL CONTEST" is part of the text on the cover. 6 x 9" sheets. Original fully illustrated box. Fine condition. Complete. Just a great collectible with some great patriotic graphics, and would be a great display item for your collection. $35 Sale Price $15
65PP - 1940 FIGHTING PLANES OF THE U.S. NAVY BIG BOOK Sale Pending Big picture book 11¾" square. "Copyright, 1940, Grinnell Lithographic Co., Inc." is on the lower left front cover. 7 heavy sheets plus illustrated covers. Several views of the aircraft in flying portraits, with explanatory text. Fine shape. Very heavy paper. Some few, pale drip marks on left edge of cover. Back page has numerous squadron insignia. To illustrate how early the book is, one of the planes are shown flying over the Yorktown. $25 Sale Price $15