CS Flag, Lady Liberty Silk Ribbon, Lincoln & Washington Framed Needlepoint Pictures, Stamped Brass Numbers & Letters for Headgear, Belt Plates turned Brooches, Patriotic Envelopes, Confederate Bonds, Civil War Ammunition and Cartridges, Odd Fellows Hair Watch Chain, Brass ABC Stencil, GAR Veteran Souvenir Glass & Porcelain Canteens, Excavated Shoulder Scales, Brass Hat Wreaths, Infantry Horn Insignia, Dug & Non-dug Clay Pipes, Newspapers, Harper's Weekly, Frank Leslie's news magazine, Knives, Forks & Spoons, Inkwells & Pen Wipes, Civil War matches, Ginger Beer Bottle, Medical Bottles, Antique Frames, much more...check through these listings

Also check out the other main sections, and specifically Pins & Stick Pins and Uniforms & Headgear sections for other Civil War related items, perhaps not listed here.
CLICK ON EACH THUMBNAIL PHOTO FOR LARGER VIEW OF THE ITEM
1MCW - GORGEOUS C.1850-60 SHEFFIELD EAGLE FOLDING KNIFE I believe this is silver, and is beautifully made. Both sides of the grip have a spread eagle over shield, and decorative panels left and right. Two smaller pieces of what I believe is horn, and abalone flank the eagle, this on both sides of the grip. Overall 9 1/2" long. The main blade is 4 3/8" long, and is stamped with "W M NICHOLSON SYCAMORE ST SHEFFIELD". The short blade is 2 5/8" long, with the same stampings. There is some minor pitting, and the large blade shows signs of being sharpened, and not done so well. Generally, the grip pieces are in beautiful condition, showing light use/handling. Beautiful piece Dale had packed away for decades. $1,950
2MCW - GORGEOUS Circa 1850-60's HAIR WATCH CHAIN or CHOKER with ODD FELLOW PENDANT AND GOLD FITTINGS The chain is 15 1/2" long and is comprised of three strands of beautifully woven human hair, put together in a spiral. One end terminates in an engraved gold socket with rings. The other end terminates in engraved gold socket and ring which holds a very ornate, large hook which was meant to go over a button or in a button hole. In the middle of the chain is a gold, engraved sleeve through which the chain goes. It has a ring on the side which drops a swivel/chain holding a rectangular "jewel", a gold rectangular structure which has a layered glass or mineral centerpiece engraved with the three links of the ODD FELLOWS. The opposite side has a dark green striated insert. It's also possible that a lady wore it as a choker type necklace. Overall condition is very fine. The chain has one very small frayed area (see photo). About as fine as hair jewelry comes, from the Civil War- mid-1800's period. $325




3MCW - ORIGINAL CIVIL WAR ZOUAVE SOLDIER AND WIFE CANDLESTICKS 8" tall, pair of glazed ceramic candlesticks. Quite ornate, and well made. Once ornately painted with gold and blue, red paint, most of it is now gone from handling. The man is a Zouave soldier standing in front of crossed flags, holding a musket, wearing the traditional style uniform. The lady is also wearing her Zouave outfit, holding a canteel, standing in front of crossed flags. On the lady candlestick, there is a chip off the bottom of the flag on the right, and a small chip out of the rim at top where the candle goes in. On the soldier candlestick, there is a chip at the rim on top, which then radiates a small crack downward. Still intact. Toward the rear of that rim, is another small chip. I believe these have been used quite a lot over their years. Each have "40" in the bottom of the glaze. Priced at what Dale paid for them many years ago. $150
4MCW - ORIGINAL BRASS CIVIL WAR HAT WREATH INSIGNIA Worn on front of kepi or slouch hat. Stamped brass. Regulation style. Retains 3 of the 4 wire fasteners. 2 1/2" wide. Just add company or regimental numbers. $25
5MCW - ORIGINAL BRASS CIVIL WAR HAT WREATH INSIGNIA Worn on front of kepi or slouch hat. Stamped brass. Regulation style. Retains all 4 wire fasteners. 2 1/2" wide. Just add company or regimental numbers. $40
6MCW - CIVIL WAR LADIES PATRIOTIC EAGLE DRESS BUCKLE Beautiful detail! Consists of two mirror image halves, split vertically down the middle. Each side has a spread eagle over American Shield over arrows and wreath. Ribband on bottom, reading "E PLURIBUS UNUM". Entire thing has the appearance of dark brown gutta percha, but I suspect it's wood. Design has good depth and is extremely sharp. Too precise to be hand carved, but hard to believe a machine engraver did such a fine job. Pieces lock together on back with blued steel belt loops and tongue. Beautiful display piece. Should be put on a belt of velvet or watered silk. Priced below cost...$
195
7MCW - CIVIL WAR PATRIOTIC UNION LADY LIBERTY SILK RIBBON Dale collected all types of patriotic Americana and militaria for our own collection. Here's one of them: 2 3/8" x 6" beautiful silk ribbon, in excellent condition, with only a couple very minor brown spots at top. Beautiful patriotic color rendition of Columbia, Lady Liberty holding a large American shield and holding up a large American flag. The word UNION is at the top between flag staffs. Has the initials J.H.G. under the left flag. A beautiful piece for any Americana collection. $85
8MCW - CIVIL WAR HAND BLOWN GLASS INKWELLS Click on the thumbnail photos next to each letter below PRICES REDUCED! Excavated in a camp in Virginia about 40 years ago. We've had these in storage nearly as long and only pulled them out when preparing to move. Several styles were found, most quite rare, due to their fragile nature. Guaranteed original, and illustrations of the fact that at least in this camp, the umbrella style inkwell was seen far less than many other shapes. Price guides rate these in the $50-100 range. Due to the rarity of most of our forms, I believe they rate a price near the higher amount. However, as we've retired and closing out our collections, we'll price them at bargain levels. Some of these still have the original $35-40 price tag from at least 30 years ago. AS AN ADDED BONUS, if you purchase an inkwell below, we will add a free set of pen wipes (43MCW).


A. We call this one the School House Design. Prox. 1½ x 2" rectangular base with roof and chimney – the latter being the spout, which is sharp edged being the pontil. The roof has two lengthwise gutters, one each side of the chimney, on which the pen could rest. Pale greenish clear glass. Have a few of this style. Should be $75. Now…$25

B. 8-Sided Glass Inkwell. Prox. 2¼" high (including spout). Bottom 1½" is 8-sided, prox. 1 5/8" in diameter. Lip of spout is sharp being the pontil. Pale greenish clear glass. A few have a bluish-green tint to the clear glass. Should be $45 Now…$20
C. As in B. above. Have 3 a bit heavier and a darker, clear green. Somewhat better looking. Now…$20 Each
NOTE: MOST OF THE FOLLOWING ARE ONE OF-A-KIND, or perhaps two. Several are extremely rare. The listing as a whole is most illustrative of the variety used by the soldiers and sold by the sutlers.
D. 8-sided, pale greenish clear glass. Much larger than above. 2 1/8" wide. 2¾" high including spout (sharp edged being the pontil). Only one. Should be $65. Now…$25

E. 8-sided, pale greenish clear glass. Taller than D. above. Prox. 2" wide and 3 1/8" high, including spout (sharp edged). Have two. Should be $65. Now…$25 Each
F. Round Bottom with center spout on top. Have three with minor variation between each. Prox. 1 3/4" to 2" in diameter and 2 1/2" to 2 3/4" high, including spout. Pale greenish clear glass. Unexpectedly rare. Few were found. Should be $50. Now…$20 Each

9MCW - CIVIL WAR to CENTENNIAL (1876) PATRIOTIC PEN WIPES Belongs in every soldier display, along with pens, ink well, housewife, etc. These were used to clean the pen points. Basically an oval piece of thin leather, 3 1/2" long, with serrated edge design. One has a neat little red/white/blue shield sticker on the side. The other has a bust of George Washington sticker on the side. Mint, unused. Set with one of each...$6 Buy three or more sets...$5 each set
FOLLOWING IS A NICE LIST OF ORIGINAL AMMUNITION PRICES REDUCED
10MCW - "TEAT FIRE" CARTRIDGE FOR MOORE SINGLE ACTION POCKET MODEL REVOLVER This special .32 caliber teat-fire cartridge was designed by Daniel Moore and David Williamson. It was loaded from the front with the "teat" to the rear, and used in the The Moore Front Loading "Teat Fire" Cartridge Single Action Pocket Model Revolver. Approximately 30,000 of this revolver were made circa 1864 to 1870. This is the only bullet like this we found in a huge pile of old ammunition. $20
11MCW - MAYNARD .50 CALIBER CIVIL WAR CARBINE AND RIFLE CARTRIDGES Classic form, with brass case having exaggerated disc base, with flash hole at center. Very scarce cartridge; our meager supply was obtained years ago. Excellent condition. Brass a little dark. Bullets are light grey. Each...$25
12MCW - RARE CIVIL WAR CARTRIDGE Front looks like standard 3-ring minie, measuring .58-.59 caliber, but powder charge is narrower than the bullet extends from the rear cavity for 3/4" and appears to be lacquered linen. Consulting "Small Arms & Ammunition of the United States Service" by Lewis (Smithsonian), the closest thing is the Johnston & Dow .58 round (plate 37, J.) or the Colt's Revolving Rifle (plate 50, A.). Bullet has heavy white oxide patina. Powder case lightly dented in on one side. Only have one. $50
13MCW - M1865 & LATER SPENCER RIFLE & CARBINE CARTRIDGES These are .50 caliber, and the case shows a slight decrease in diameter near the tip. Offered in original plain cardstock packets of 7 rounds, or single rounds. Copper cases have some light patina and the bullets are greyish white. Cardstock packets have some split seams, but are decent. You want to be able to see into them anyway. Packet of 7...Each...$100 Individual Round...Each...$15
14MCW - ORIGINAL CIVIL WAR INFANTRY AMMUNITION .58 caliber paper cartridge (this bullet known as the minie ball), for the Springfield rifled musket...all models from 1855-1864, and all contractors. Paper wrapped around bullet and full powder charge. In use, the tail was ripped off with the teeth (why soldiers had to have teeth), the powder was poured into the muzzle, then the bullet (minus paper) was rammed down. Nipple was then capped and weapon fired. Excellent cartridges. Each...$65



15MCW - ORIGINAL CIVIL WAR MUSKET PERCUSSION CAPS IN ORIGINAL TAN PAPER PACKET Approximately 2 3/4" long, maybe longer if one end is a little more relaxed. This carries the original load of, we believe 15 caps...little copper top "hats". Looks just like a paper cartridge is wrapped using the same type paper. Folds on one end and was thread wrapped on the other end (thread now gone). Very clean. I have not opened them to take any caps out, and therefore can't be positive about how many caps are in there, but one is a bit more relaxed and you can see the caps inside. Really, really rare. Have 2, the very last of what Dale had tucked away decades ago. When these are gone, there will be no more. Each...$50
16MCW - CONFEDERATE MINIE BALL, CS VERSION OF THE UNION MINIE BALL This is a Confederate version of the Union minie ball. We know nothing else about it. Upon close inspection of the underside of the bullet, you can see linen fabric. $10
17MCW - CIVIL WAR PERIOD WOOD FRAMES These were in a pile of frames we had put aside. No glass.
B. Classic Rectangular Frame. You see this style frame in Civil War photos, and on up into the late 1800's. This may be maple, but I'm not positive. 13 x 19" to the furthest edges of the frame; 11 3/16 x 14 1/8" for photo or mat size. Has decorative leaves in each corner. Coincidentally, the one I took a close-up of has a crack repair, something I didn't notice until I looked at the close-up of the photo. $25
C. Rectangular Frame. 15 x 18 1/2" exterior frame; 12 5/8 x 16 3/16" for photo or mat size. I think this one is maple, very attractive. Has a partial label that says "Made in the Morning Shop". $15



18MCW - G.A.R. "GRAND ARMY OF THE REPUBLIC" VETERAN'S SOUVENIR GLASS CANTEEN From the 33rd National Encampment of 1899, in Philadelphia, PA. Face of clear glass canteen has beautiful, full color G.A.R. membership badge backed by lush green wreath and large crossed flags, all applied as a single label under glass, bonded to the face, in a slightly depressed, convex circle. The event text is found at the top of this decorative face. This "label-under-glass" technique is very fragile, and few survive. There are no cracks in the face. The reverse side has raised letters U.S. at center. Has a screw spout with original pewter stopper. There are small depressions where wire sling guides once were. One goes all the way through the glass body. These glass canteens are rare, especially in fine condition. Measures 4 3/8" diameter. From our collection. $225



19MCW - G.A.R. "GRAND ARMY OF THE REPUBLIC" VETERAN'S SOUVENIR CANTEEN Sold at G.A.R. reunions such as the National Encampments. Very scarce G.A.R. memorabilia, especially this form, the miniature white china canteen with full color G.A.R. membership badge on one side. The reverse side has color portraits of three presidents – Lincoln, Garfield, McKinley…all assassinated. Canteen is 4 ¾" in diameter, and has three sling loops like the real Civil War canteen. Also a functional spout. Loops and lip of spout have worn gold finish. Information which came from the seller decades ago is that the original soldier owner was R. A. HANNA OR HANRA, Captain from New Jersey. Have nothing more to go on. Fine condition. From our collection. $225
20MCW - PAIR OF EXCAVATED CIVIL WAR BRASS EPAULETS Also called "shoulder scales". Worn by enlisted men on their shell jackets and 9-button frock coats. Never a favorite with the men, they often disposed of them in the field whenever they thought they could get away with doing so. Therefore, these shoulder scales have frequently been found in latrines dug out at the campsites. Very attractive collector items, especially sought after by dug relic collectors. We have two pair, dug together, totally uncleaned, with heavy patina, somewhat pale green in color, with a sandy texture. Complete, except for one flat retainer strap for the underside. A loose one is included. The underside of the scale area is heavily rusted. The crescent ends, normally crushed when dug, are not deformed. The crescent end slipped off the scale and at the attachment point due to the deterioration of the backing, I reattached the two parts with epoxy and it is virtually an invisible repair. These were dug near Harrison's Landing, Virginia about 45 years ago. This is all the information that was with them after being in storage 35+ years. Each pair...$65 OR both for $120
21MCW - ORIGINAL CIVIL WAR CLAY PIPES When I purchased these 35+ years ago, I was told they were excavated from the remains of a pipe factory in the Maryland/Virginia vicinity, which had burned down during the Civil War. These were not burned, they were just found in the ruins of the factory. These are the exact type I've personally dug in Civil War camps. They are plain red clay which took a bamboo stem (not included). Fine condition. Each...$20...Buy three or more, pay $15 each PRICE REDUCED
22MCW - ORIGINAL DUG CIVIL WAR CLAY PIPES. Have only two with more decorative reeded sides. One available...shown in the photo on the left. $25 PRICE REDUCED
23MCW - ORIGINAL CIVIL WAR RED CLAY PIPES WITH ORIGINAL BAMBOO STEM Photos show representative examples Bought these decades ago. Really nice. Never used. Absolutely original (non-dug). Exactly what sutlers sold and exactly what I've excavated at camps and battlefields. Red clay head with reeded sides (parallel grooved). Stem is a straight piece of bamboo drilled out and tapered on the end going into the clay head. Each...$30...Buy three or more, pay $25 each PRICE REDUCED

24MCW - CIVIL WAR WOOD MATCHES These came in flat strips roughly 1 13/16 x 2 1/2". The wood is scored, and whenever you needed a match, you broke one off. Each strip has about 17 matches, and along one side, each match head is narrowed, and has a little bit of red chemical which long ago, lit when rubbed. Original packages held 5 strips. These were in boxes we put away 35+ years ago. These are great soldier items guaranteed Civil War. Per strip...$15
26MCW - INDIVIDUAL CIVIL WAR STAMPED BRASS NUMBERS & LETTERS Perhaps some went into Indian War period...I am unsure of those details. For slouch hats, kepi's, Hardee hats, etc. Most are smooth finish and stamped brass, with either loop or straight attachments soldered on back. Most of the small numbers are striated finish. Absolutely original. Back in the 60's-70's, when Dale would find these original numbers and letters, he would just throw them in a box. They built up over time. In the past year, we had been going through boxes of material that accumulated over nearly 50 years as a dealer. Now that Dale is gone, I have been going through more boxes, and find more of these in various places. I've re-taken the photos, and hopefully they will be easier to determine which you can use. The photos now list the sizes and prices. Many have been sold, so please check with me to be sure of availability.
27MCW - CIVIL WAR GENERAL N. P. BANKS CABINET PHOTO 1880 period photo. Splendid portrait of an important General and politician. Born in Waltham, Mass. Beginning as a factory worker, he studied law, and became successively a member of the state and national legislatures...Speaker of Congress 1856, then Governor of Massachusetts in 1861. In the Civil War, he commanded on the Potomac, and is known later for his capture of Port Hudson. Member of Congress until 1873. Crisp portrait by Warren's of Boston. Few pale spots of foxing at edge of card. Important Civil War General. Came from an exquisite album of top government, military and celebrity photos. The accompanying handwritten name was clipped from the page in the album (not his signature). $35



28MCW - EXCAVATED FRAGMENTS OF CIVIL WAR HAIR COMBS DUG AT FT. CRAIG NEW MEXICO The first is a 3 3/8" wide piece, missing most of the teeth. The second is a 1 1/2" wide piece, with all the teeth remaining. Dale dug these in the vicinity of Ft. Craig New Mexico back in the early 60's. When he started relic hunting, he kept a log for a while, marking the items and keeping an inventory book. $10
29MCW - ORIGINAL CIVIL WAR STATE MILITIA NG STAMPED BRASS CARTRIDGE BOX INSIGNIA Stamped brass entwined letters NG. Standard use by many states. This same model insignia is shown on a cartridge box in Vol. 37 No. 3 2013 "North South Trader's Civil War", page 47, in a group of items from the 1860-61 mounted company of the 7th NYSM (New York State Militia). 1 1/2" x 1 1/2". Excellent. Retains all 4 brass attachments on rear. Absolutely original. This came out of a box of old insignia, letters, numbers, excavated relics, etc., that Dale tucked away decades ago. $30
30MCW - ORIGINAL CIVIL WAR INFANTRY HAT INSIGNIA Stamped brass hunting horn hat insignia. About 3 1/2" wide. Has proper brass loops soldered on rear. Really nice condition. Absolutely original. Dale had this tucked away for decades. $40



31MCW - ORIGINAL CIVIL WAR MUSKET PRIMERS PERCUSSION CAPS FOR SHARPS+ Found this bag of 12 original Civil War percussion caps in Dale's desk, while cleaning out things. He obviously believed they are real, and wrote "PELLET PRIMERS (SHARPS+) + MUSKET CAPS ORIG!" on the plastic bag. If he wasn't sure they were original, he wouldn't have written that on the bag. At the same time, he also kept a couple bags full of repro items as reference material that he continually acquired, to help him stay current what was out there in the growing market of reproductions (over 40-50 years). He knew Civil War stuff for nearly 50 years, and so I will pass these on for sale with all confidence. $20
32MCW - CIVIL WAR STENCIL INK WITH ORIGINAL BRUSH Two section item, made of tin. Overall 7 1/2" long, with the largest section 4 1/4" in diameter. There is a good size chunk of black hard ink still in the large section. The smaller section would hold water while using this item, and shows some mild rust stains. The brush is 4 3/4" long. A classic of the Civil War, used with a stencil to put names or initials on field items. $35
Over the decades, Dale collected anything unusual for our personal collection. Below are three different GUARANTEED ORIGINAL buckles turned into brooches, purchased separately over the years, as he found them.
33MCW - CIVIL WAR U.S. OVAL CARTRIDGE BOX PLATE, TURNED INTO A BROOCH Beautiful bright condition, 3 3/8" wide. Wire loop fasteners on reverse were cut off, and replaced with a strong, full length horizontal pin with "C" clasp. Now a heavy piece of military jewelry. Unknown how this brooch was intended to wear, but over the past 50 years in the militaria business, we've encountered several examples of belt plates/box plates transformed in this manner. We've always considered these as fascinating in that they employ Regulations, original military insignia, and exhibit modification, most probably for ladies wear. $175
34MCW - M1839 NEW JERSEY CARTRIDGE BOX PLATE, TURNED INTO A BROOCH SOLD
35MCW - RECTANGULAR CAST BRASS CSA "CONFEDERATE STATES OF AMERICA" BELT PLATE SOLD
36MCW - IMPORTANT ORIGINAL CIVIL WAR NEWS MAGAZINES Representative sample shown A weekly, profusely illustrated publication, and the second most popular national periodical during the War. "Frank Leslie's Illustrated Newspaper". We acquired a good number of these from 1862 to 1864, and will sell them, as they come. These are roughly 11 x 16", and 14-16 pages (7-8 sheets). Filled with War news and pictures, as well as great advertising, from medicines, corps badges, I.D. tags, gun, and mess kits. Papers are all used showing handling…they were probably read by several family members, then saved. Folded edge will have some generalized shallow fraying as they were once bound. See what the people saw in the way of their most trusted news coverage. Offered at half our price several years ago. Each…$15 Buy 5 or more...$10 each
See the EARLY WARS MISCELLANEOUS Section for 1810 and 1812 NEWSPAPERS
37MCW - THE MOST IMPORTANT CIVIL WAR NEWS MAGAZINE Representative sample shown "Harper's Weekly - A Journal of Civilization", 16 pages (8 sheets), 11 x 16", profusely illustrated, always filled with War news, as well as fiction, small anecdotes, and fascinating and useful advertising of many soldier related items, for instance tobacco pouches, binoculars, mess kits, stationary, I.D. and corps badges, guns and more. Center usually has full 2-page picture of latest action of interesting event. Very good condition. Spines will show some wear and possibly shallow fraying from having once been bound in a book. No Civil War collection can convey the essence of the War and the times, without some of these…they held the images through which the population saw the War. This lot was actually subscribed to and collected by a Massachusetts soldier, Lt. George A. Reed, Mass Minuteman (6th) and the 26th, who served 1861-65 and who survived passing through the Baltimore Riots which decimated his regiment. These date 1862-1865. They are all equally excellent and interesting. As they come…Each $15 Buy 5 or more...$10 Each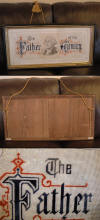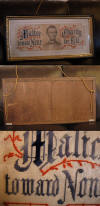 38MCW - A BEAUTIFUL PAIR OF NEEDLEPOINT ITEMS - ABRAHAM LINCOLN AND GEORGE WASHINGTON We have owned these for as long as I can remember. They were prominently displayed in our Gettysburg home, and also here in Alaska. We always hung them as a pair, but I will sell separately if you wish. I don't know exactly how old they are, but they are antiques. They consist of a printed design on what seems to be cardstock with holes for needlework. The side of each bust had what looks like shiny foil put under, with the red and blue yarn over the words on each. Each bust was kept free of yarn. I did not remove either from the frame. 26 1/4 x 13 1/4" in the frames, which are beautiful and antique. Lincoln's words are "Malice toward None / Charity for All.". Washington's words are "The Father of his Country". (The photos are not the best, very difficult to photograph with glass and all the reflections.) Each frame has a beautiful gold color cord which hangs from a decorative hook and tassel. $200 each...$350 FOR BOTH
BUY TWO OR MORE BONDS SHOWN BELOW, AND TAKE $10 OFF EACH PRICE...(these bonds have been in storage for decades, when Dale purchased them in his early dealer days)
PRICES REDUCED
41MCW - STONEWALL JACKSON CONFEDERATE STATES OF AMERICA $1000 COUPON BOND AT 7% Issue of February 20, 1863. The sale of interest-bearing coupon bonds by the Confederate Treasury was the primary instrument for raising capital for the War effort. The collecting of Confederate bonds offers the opportunity to combine beauty, rarity, and history in one immensely rewarding pursuit (quoting the North-South Trader's Price Guide). This wonderful bond is printed on thin greyish pink paper, and measures (lacking one row of coupons redeemed during the War) 14" wide and 14¼" long. Masthead has "CONFEDERATE STATES OF AMERICA/LOAN" arching over oval portrait of Stonewall Jackson. Originally had one additional row of $35 redeemable coupons. Excellent condition. Rolled. $75
43MCW - LARGE CONFEDERATE CENTRAL GOVERNMENT $1000 BOND AT 6% Off-white paper with orange overprint. 16" wide, 28" tall. Masthead has "CONFEDERATE STATES OF AMERICA" in an arch over the Equestrian Statue at the Capitol, flanked by scrolls. Below the bond certificate is a large panel of thirty dollar coupons, all present but one, which was redeemed. Bond was issued in February 1864. Excellent condition. Was rolled but originally was folded – the bends difficult to see. Lovely things. To quote the price guide "The Collecting of Confederate Bonds offers the opportunity to combine beauty, rarity, and history in an immensely rewarding pursuit!" All rare, the sale of interest-bearing coupon bonds by the Confederate Treasury was the primary instrument for raising capital for the War effort. $65
44MCW - CONFEDERATE STATES OF AMERICAN $1000 COUPON BOND AT 8% Authorized very early in the War…August 19, 1861. Sold November 4, 1862. Arching masthead reads "CONFEDERATE STATES OF AMERICAN/LOAN". This over an oval portrait of what looks to me like John Regan, Postmaster General. Retains most of its coupons, only 4 redeemed. Excellent condition. Very clean, crisp. 14 x 16¾". $65
45MCW - HANDSOME CONFEDERATE STATES $1000 COUPON BOND AT 6% Lowest interest rate we've noted. Larger than usual masthead lettering, emphasizing "CONFEDERATE STATES OF AMERICA". Bond authorized by CS Congress March 23, 1863. Issued 1 April 1863. Pictured just under the masthead is a wide illustration comprising several substantial buildings. Bond retains 7 coupons for $30 interest. Missing about 4 coupons redeemed during the War. Excellent condition. Roughly 14" square. $65
48MCW - CONFEDERATE STATES $500 COUPON BOND AT 8% Authorized by act of CS Congress February 20, 1863. Masthead title reads "Confederate States of America Loan" surrounding portrait of Christopher Memminger, Secretary of the Treasury. The sole of interest bearing bonds by the Confederate Treasury was the primary instrument for raising capital for the War effort. Great graphics, rarity and history all add to the rewarding pursuit of their collecting. Lacks 5 coupons which were redeemed during the War. This left 7 @ $20 each, which the unfortunate investor did not receive in interest, plus the initial $500 investment. Roughly 14" square. Excellent condition, logically showing some handling. Ink stamp on the reverse reveals that this bond was purchased by the Dutch government; many European countries bought heavily of the C.S. bonds. $60
49MCW - CONFEDERATE STATES $100 COUPON BOND AT 7% Large, elaborate masthead (as most have) reads "CONFEDERATE STATES OF AMERICA LOAN", arching over an oval tableau of an officer leaning against a tree, looking out over the countryside. Authorized by CS Congress 20 February 1863, Issued 2 March 1863. Interest coupons below the bond certificate are for $3. Lacks probably 4 coupons redeemed during the War. On pale pinkish grey paper. Excellent. Shows some handling wear. Bears a purple ink stamp on the reverse, which is extremely rare and interesting. It reads "Confederate States of America Bondholders Committee/Registered and fee paid/28 Dec 81/David Lindsay/Clerk". The date 1881 indicates to me an organized effort to find some means to recoup their lost bond investments. Never heard of this before. Bond measures roughly 14" square. $60



50MCW - SCARCE AND IMPORTANT ACCESSORIES TO SCARCE MODEL CIVIL WAR EPAULETS This scarce model was worn by the U.S. Marines, as well as many state units, of which the Civil War Army was mostly made up. This epaulet model had the feature of being worn either with or without wood cord fringe. The Marine fringe was red. I've seen yellow fringe for state cavalry units. The brass frame to hold the fringe is the next difficult part to obtain, if you have the epaulets…missing the fringe. We offer this matched pair of the brass fringe holders. The epaulets had open undersides to the crescent ends, into which these fit. Fine condition. Only about the third set Dale said he found in 30 years. $20
51MCW - ANTIQUE 1860's BONE PICK AND SMALL SCOOP ON END I found this at the bottom of a box of items Dale had put aside, thinking he would get to it one day. So now it has seen the light of day, and is for sale! This is a 2 5/8" long carved piece of bone, in the shape of a small scoop on one end, and a sharp end on the other. I first thought it was a scoop for medicines, but now I wonder if it is a vent pick, or something a person used to pick out ear wax (yuck). Apparently such specially formed items were used during the 1800's. I date it to Civil War period because it is so much like many other bone items we sold over the decades, items soldiers would have brought from home. It is a nicely made little thing. The scoop is 1/4" across. $10
53MCW - CIVIL WAR ERA PIECE OF CARPET This is another item Dale had put away many years ago, always keeping anything that could be useful for future repairs. A dealer never gets rid of anything, even after they retire! This piece of old antique carpet is invaluable to repair a carpet bag used during the Civil War, a useful item brought from home. Or, it may be large enough to repair a seat on a camp stool. 13 x 29 1/2". It has some areas of missing surface, but not too noticeable due to the complexity of the design. This is NOT a modern piece of fabric. $15

55MCW - CIVIL WAR MEDICINE BOTTLE Came with lot of dug inks. 3 7/8" tall. Flat sided, chamfered edges. Pale bluish green clear glass with some whitish ground stain. Neat little relic. $10
57MCW - CIVIL WAR KNIFE & TABLESPOON SET Knife is 9 1/8" long, and the tablespoon is 8 3/4" long. The knife has wood handles, in really nice shape. The metal is lightly rusted on both sides, fairly even. The spoon does react to a magnet, so I'm not sure what it is made from...I originally thought pewter, based on the color. Patina is even, medium-dark grey. Very nice condition overall. Markings on the back are "65 L & G". Many like this were found in campsites, and I remember Dale saying how he dug them. Probably have relics of these in his huge stash when he was digging in the early years. Pair...$25
58MCW - CIVIL WAR PERIOD CHILD-SIZE KNIFE and FORK Knife is 7 1/4" long, and the fork is 6" long. Overall nice set with bone grips and steel ends. The only defect is a missing 3/4" chunk of bone on the rear of the fork, which will not affect display value. Some age darkening on knife blade, and tiny beginning of rust at tip. $10
60MCW - DECK OF CIVIL WAR PLAYING CARDS These are super bargains. Excellent unused condition in original paper wrap. Cardstock on which they were printed is a bit thicker than later cards. Typical inexpensive cards of the period. No numbers on the cards. Value of the card is indicated by number of times the suit is repeated on the card...i.e. 3 hearts is a 3-of-hearts. Nice colored paper wrap with label (blue or red), unopened, but wrap may be torn or have parted edges. Reads "GREAT MOGUL SUPERIOR CARDS". These were made in Belgium for English speaking trade. Each Deck...$50
For Order Info, go to Directory, then Terms & Ordering