MERRY CHRISTMAS and HAPPY NEW YEAR!
I WILL BE UNAVAILABLE UNTIL MID-FEBRUARY. IF YOU WISH TO PURCHASE AN ITEM, PLEASE GET BACK TO ME AT THAT TIME, and THANKS.
All periods and variety of Medals, Badges, Watch Fobs and Coins will be found in this section, including GAR and Spanish American War - USWV medals. Fraternal (medals, ribbons & badges) are now in their own section.
CLICK ON EACH THUMBNAIL PHOTO FOR LARGER VIEW OF THE ITEM
2 MB - C.1930's BEAUTIFUL 14 KT GOLD PLATE ON BRONZE AVIATION THEME WATCH FOB Presents a truly magnificent example of "THE GREAT SEAL OF THE UNITED STATES", surrounded by that text. While only 1 3/4" tall, it doesn't miss a thing...amazing detail. Has slot at top for strap (not included). Reverse has the text "WARRANTED 14 KT. GOLD PLATED / ON / GENUINE BRONZE". $45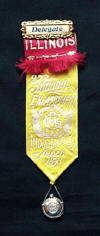 3 MB - G.A.R. 27th NATIONAL ENCAMPMENT DELEGATE RIBBON, 1893 Indianapolis. For a delegate member from the Chicago delegation to the National Encampment of the Grand Army of the Republic veterans' group. Large and showy. 9 ¼" tall. Top bar is a bright gold, thin stamped brass frame around a celluloid faced title "DELEGATE". Immediately below is a crimson silk ribbon stamped with gold lettering "ILLINOIS". Below this is a long, mustard-yellow silk ribbon stamped with silver lettering and designs. Top to bottom reads "27TH National Encampment…(lettering GAR surrounded wreath and crossed US Flags) Indianapolis, Sept 6, 1893". At bottom is a complete miniature canteen bearing the famous words "We drank from the same canteen". It is bright silver. Very good-excellent overall. Top bar complete with clasp. Sewing which attaches the yellow ribbon to top bar is half loose. Some scattered fly specks on bottom half of yellow ribbon, which has very subtle darkening from age. Very scarce ribbon. $110
5 MB - G.A.R. 35th NATIONAL ENCAMPMENT 1901 DELEGATE BADGE Made into a gorgeous watch fob, which consists of the primary pendant, now attached to a 9" long leather strap which has alternating plain and braided sections. The gold and silver colored sections of the 2 1/2" high pendant depicts classical architecture inscribed "1901 / CLEVELAND" supported by two columns. Next to the columns are a soldier and a sailor. Centered and below the pediment is a G.A.R. membership badge with a full color fired enamel flag (tiny chip out of blue). Above the flag are crossed cannon. In the area behind the things just mentioned are the Soldiers and Sailors Monument and the Garfield Monument in silver wash. The reverse of the badge is marked by the maker, "SCHWAAB STAMP & SEAL CO. MILWAUKEE". Finish shows light overall wear. Leather is fine. Something a veteran/delegate was proud to wear, well after the convention. Very showy. $65
6 MB - MARVELOUS G.A.R. 24th ANNUAL ENCAMPMENT, DELEGATE RIBBON, DEPARTMENT OF INDIANA, 1903 Civil War Union Veteran's Group (Grand Army of the Republic). Department of Indiana, 1903. A very large and handsome ribbon. A wonderful combination of silver, gold, red, white and blue. A massive 8 ¾" long. The top bar is a thin stamped, gold washed brass flame around a celluloid faced title "Delegate". It has the clasp on back. From this hangs a fine red, white and blue ribbon stamped in gold, reading top down "24th ANNUAL/ENCAMPMENT (applied circular heavy silvered metal wreath around a chromo-lithographed, photo quality portrait of an Indian entitled "Chief Anderson) DEPT OF INDIANA/G.A.R./ANDERSON, IND./MAY 12-14, 1903". Below this is a heavy gold washed brass pendant, the G.A.R. star with usual design on front, suspended by chain. Excellent overall. Finding such quality, artistic ribbons has always been different. The back side has the original Whitehead & Hoag Co. large paper label, with all kinds of information. The top bar also has copyright and patent date info stamped in, plus W & H stamp. $195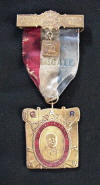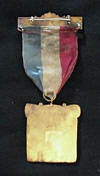 7 MB - G.A.R. DEPARTMENT OF NEW YORK REUNION BADGE Civil War Union Veteran's Group (Grand Army of the Republic). Syracuse New York 1905. This is a three-piece badge with ribbon backing. All the metal is tarnished gold washed brass. The ornate top bar has the design of the G.A.R. badge at center, flanked by the words "DEPT OF/NEW YORK". It has a small rectangular pendant with the embossed picture of a typewriter and the words "TYPE WRITER CITY". It also supports a red-white-blue ribbon stamped with "DELEGATE", and supports a large pendant in the shape of a knapsack with blanket roll on top, with the enameled letters G.A.R. Below this is a red enamel oval frame with the words "39TH ANNUAL ENCAMPMENT, SYRACUSE, NY, JUNE 21-22-1905". This encircles a man's bust, and there are crossed cannon behind. Metal and enamel are fine. Ribbon dingy with some edge wear. The hinge of the clasp is somewhat loose. As a point of interest, the National Encampment in 1905 was in Denver, Colorado. $60
8 MB - G.A.R. DEPARTMENT OF CALIFORNIA 1910 REUNION BADGE Rare Western delegate badge…4 piece plus ribbon backing. Guaranteed complete and original. Top piece is a brass, high relief statue of a Grizzly Bear. This has two drops held by chain links. One, a small rectangular piece with image of stage coach on its face. The second, is a larger bar with the word "Delegate". This supports a rectangular pendant symbolizing a knapsack with blanket roll on top with enamel letters G.A.R. over a tree, with crossed cannon behind. The scarlet ribbon is stamped with gold lettering reading "43RD ANNUAL/ENCAMPMENT/DEPARTMENT OF/CALIFORNIA/AND/NEVADA/OAKLAND, CAL./APRIL 19-23, 1910". Badge is 7 5/8" tall overall. Condition fine except for a water stain about 2" from the bottom. The reverse bottom of the ribbon has a paper advertising tag from maker "WHITEHEAD & HOAG CO.". As a point of interest, the 1910 NATIONAL ENCAMPMENT was in Atlantic City, N.J., Sept. 19-24. $235
9 MB - G.A.R. DEPARTMENT OF INDIANA 31st ENCAMPMENT 1910 DELEGATE BADGE TERRE HAUTE INDIANA. Three piece badge in dark bronze. 4 3/4" high. Top piece is a large horizontal oval with rococo scroll work at edge. Raised band at top reads "DELEGATE", this over a wreath enclosing the enameled letters GAR, entwined. The red and blue enamel is gone. Suspended by chain links is a small drop in the form of the GAR star symbol, and a large pendant surmounted by a spread eagle over flag and ribband which reads "DEPT. OF INDIANA". Another ribband at bottom reads "31st ENCAMPMENT, MAY 25, 26, 27, 1910". At center is the soldier's monument. Very fine, complete condition with the exception of the small loss of color in the top display of GAR lettering. $65
10 MB - FINE MEMBERSHIP BADGE (Some new info has come to light that this badge may in fact be from the Spanish American War) Similar to the GAR but I believe from a competing Union Veteran organization which didn't last. Early in my career we used to see these early badges, and I was familiar with their name. However it has been so long since I've seen one, I don't any longer recall it. The badge is of the same basic design. Bronze spread wing eagle (pin back), flag drop, and bronze star hanging from the bottom. Star has 5 arms, and each has 2 points at the end. Each arm has the symbol for a branch of the service. The center has the American Shield with "U.S." raised at center. Excellent condition. The bottom rear of the ribbon is parting, so should be handled with care. $125
11 MB - ADVERTISING BADGE FOR DEWEY'S VICTORY AT MANILA Handsome badge which celebrates Dewey's victory at Manila, and is an advertising piece as well. Has a rare and unusual silver color filigree border/circular frame. This fits around a regular celluloid pin back button with photo quality picture of Dewey. Wording around the edge says "Compliments of THE PRUDENTIAL Insurance Company, Newark, N.J.". The reverse has advertising for the Prudential, about their premiums and costs. Below shows info that this was made by The Whitehead & Hoag Co. Newark, N.J. Patented July 17, 1894; April 14, 1896; July 21, 1896. Nice, fancier item than normally seen for a pin back button. $45
12 MB - UNITED SPANISH WAR VETERANS MEMBERSHIP BADGE SOLD 5" tall. Multi-pieced badge. Heavy bronze. Top piece is spread wing eagle on shield against a wreath. This supports a red-white-blue flag ribbon which supports a piece made up of crossed saber, musket, cannon and anchor. This suspends the USWV cross on which is the logo and writing. Reverse is serial number 68103. Cross has ring of corps badges. Pin back on back of top piece. Very good-excellent condition. Ribbon bright with subtle, slight dulling. $120
14 MB - UNITED SPANISH WAR VETERANS DELEGATE BADGE TO THE 1912 NATIONAL ENCAMPMENT Three piece badge in light bronze. 4" tall. Top has beach scene with woman under an umbrella. Has ribband reading "ATLANTIC CITY 1912". Ribbon is red/yellow with color bleed. Pendant is shield shaped, the border reading "NATIONAL ENCAMPMENT / UNITED SPANISH WAR VETERANS" around the standard USWV cross with logo. Fine except ribbon which has a little bleed, and is stamped "DELEGATE". $65
15 MB - PAST COMMANDER'S JEWEL - UNITED SPANISH WAR VETERAN About mint condition. One size smaller than the largest...3 3/4" tall. Consists of four bronze pieces plus flag ribbon. Pin back top is spread eagle on shield over wreath, and flag drops from this. Flag has blue border on both sides. Affixed to the flag is a miniature colonel's shoulder strap. Hanging from the flag is piece with crossed rifles, saber, cannon and anchor. Suspended from this is the pendant with USWV cross with logo, within wreath. Reverse has more insignia. Good as they get. Has the initials FJB scratched on back, crudely. $175
16 MB - 1st MASSACHUSETTS HEAVY ARTILLERY ASSOCIATION CIVIL WAR REUNION RIBBON Red silk ribbon 1¾" wide x 6 high, printed in black. Reads top to bottom, "34th ANNUAL Summer Reunion, 1st Mass. H. Art'y Assoc'n, (corps badge), Salem Willows, Thursday, Aug 14, 1902". Excellent condition. Probably had a small wire pin-clasp at top which slipped into the narrow channel on the top end; this no longer present. $35
18 MB - FEDERAL WWI U.S. WINGED VICTORY MEDAL Winged Victory on front of the medal. Hangs from a rainbow ribbon. Pin on top has a lockable clasp. Reverse has allies, and the title of medal at top "THE GREAT WAR FOR CIVILIZATION" over a eagle/US/shield. Excellent overall; top left ribbon has some tiny fraying. $75
20 MB - WWI BRASS WATCH FOB Shield shaped. 1 1/2" tall x 1 3/8" wide. Sunburst design with red-white-blue flag and ribband at top with "SALUTE THE FLAG". Loop at top for strap. Fine. $25
21 MB - WWI "AMERICA FIRST" PATRIOTIC ID'd WATCH FOB Basic theme is a billowing flag at top, with wreath below, with "AMERICA FIRST" in ornate lettering over "J. R. BARRY / UTICA, ILL. / 1917". Original leather belt, with silver plated fob with semi-oval shape. Excellent. Probably was a soldier or defense worker. $40
22 MB - WWI ERA U.S. FLAG WATCH FOB Gilt brass pendant bordered by rococo scrolls. At center is an applied U.S. flag done in bright fired enamel colors. Minor finish wear. Good leather belt. $30
23 MB - WWI ERA U.S. FLAG WATCH FOB Silver plated brass pendant bordered by rococo scrolls. At center is an applied U.S. flag done in bright fired enamel colors. Minor tarnish. Excellent. About mint belt. $35
24 MB - WWI WATCH FOB Bronze. U.S.A. National Emblem pendant, lacks the little leather belt. Beautifully done. Excellent original condition. $25
25 MB - WWI U.S. WATCH FOB Complete with narrow leather belt. The fob part is a leather lobe with thin brass, stamped national emblem...spread eagle, shield, arrows, olive branch, etc. Very good used condition. $25
26 MB - PATRIOTIC HOME FRONT WATCH FOB C.1930's Disc shaped fob with slotted loop on one edge. Face is centered with nicely detailed, deep relief spread eagle on crossed cannon, holding a ribband reading "PREPAREDNESS". Edge has three panels, each a different color of fired enamel, red/white/blue, reading "USA/PROSPEROUS/POWERFUL/PEACEFUL". 1'' in diameter. Shiny brass where not enameled. Fine and rare. $25
27 MB - WWII AIR FORCE TECHNICIAN'S BADGE WITH SIX QUALIFICATION BARS All hung like a ladder. The basic badge and four bars (one harder to see) are marked STERLING (the 4th and 6th are unmarked). The bars are: AP MECHANIC, AP ELECTRICAL SP., AP INSTRUMENT SP., AP PROPELLER SP., AP ARMORER, AP WELDER. Rare find with this many bars attached. Pin back. Just about 4" long. $250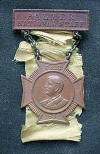 28 MB - G.A.R. 1892 PRESENTATION BADGE FOR 26th NATIONAL ENCAMPMENT Two-piece bronze badge with yellow ribbon backing. Apparently given to members of the staff who organized the preparations for the national encampment. Top bar reads "PALMER NATIONAL STAFF". Pendant has bust of an elderly man most likely "Palmer", who must have headed the arrangements committee/staff. Also reads "G.A.R./1892". Reverse of pendant reads "PRESENTED/BY/PALMER STAFF/ASSOCIATION/1892/WASHINGTON". Metal is excellent. Ribbon is frayed, and a small piece loose. 2¾" high. Has original clasp. $25


30 MB - AMERICAN HOSPITAL ASSOCIATION LAPEL BADGE The AHA began as an informal gathering of eight hospital superintendents in 1899, and ultimately formalized in 1927. It would appear that the pin is fairly rare and early. It is only 5/8" and in the shape of a Lorraine Cross in bluff blue fired enamel, with circular logo at center of eagle over shield with different object in each of four quarters...the Caduceus, Maltese Cross, Greek Cross, and Urn Lamp. At bottom is a Latin motto, translated to "Without God We Can Do Nothing". The top arm as the word "SERVICE" and the bottom arm as a "V". Screw back. The back is stamped "LGB/STERLING". Fine condition. $15