CLICK ON EACH THUMBNAIL PHOTO FOR LARGER VIEW OF THE ITEM




2G - A MASSIVE WALL CALENDAR - LUFTWAFFE 1943 14 1/8 X 17" closed. It's going to be hard for me to describe properly, so please rely on the photos. This is not your normal calendar, where a complete month is on one page. These pages flow from week to week, each month. Each page has another German airplane, and its name and basic information, in German. There are Stuka, Junkers, Messerschmitt, Dornier, and many others. There are float planes and transporters. These are copies of real photographs it looks to me. The planes have swastikas and many other interesting things to study. From what I can tell, there are some missing pages of some weeks in some of the months. There are also three separate pages stuck in the rear, one looks like a week that has the bottom removed. There is a sticker pasted on the inside back cover, which reads in part: "FARBAUFNAHMEN AGFA-COLOR (then a bunch of names below) Entwurf und Gestaltung: C. Gerger / ------UKTION UND OFFSETDRUCK / CARL WERNER - REICHENBACH i.V. / Gedrucki in Deutschland - Printed in Germany - Imprime en Allemagne". The cover is a bit rough, and has some old tape repairs. Dale purchased this in 1988. It is an amazing thing to look through. $350
3G - HEAVY, BEAUTIFUL & HEROIC WWI GERMAN DISPLAY - CHECK OUT THESE PHOTOS! Of unknown use, but appropriate for memorial, funeral, or heroic displays. Perfect for centerpiece use with WWI memorabilia displays. German made from heavy cast brass, and beautifully painted. 18 1/2" wide, 13" high. Consists of an Artillery pickelhaub with red cockarde and leather chin strap, with a bayonet tucked under it, both nested in a wreath of green laurel with red berries. Very heavy. Surround this with other German Militaria and you've got a prime display. $475


5G - GERMAN MINIATURE LAPEL RIBBONS, BELIEVE WWI Consists of a red, white and black miniature ribbon tied very much like a bow tie. Back has small button for attaching to lapel. Have two, different sizes. One is 7/8" wide, and the other is 1 1/4" wide...and has gold crossed swords at center on the bigger one. The largest looks unused. The other is excellent, just needs minor straightening on ends. The two...$28
6G - GERMAN SOUVENIR RING MEMORIALIZING THE WAR YEARS 1914-1915 These dates are on the side faces. Top has mounted on it a marvelous miniature artillery shell held on with two tiny copper sabot. A marvelous soldier's souvenir, probably for his wife or girlfriend. Fine condition. Approximate size 5.75. $65


7G - WWI GERMAN "GOLD FOR IRON" WATCH CHAIN 12" long. Heavy iron links separated in three places with solid oval links with text. Center one features the German eagle and inscriptions on back reading "IN EISERNERZEIT 1916" (Iron Times). The two other links with inscription are identified and read "GOLD ZUR WEHR / EISEN ZUR EHR" around "1916" (Gold for Iron). One end has hook for watch and the other has larger one for button hole. Fine condition. $95
8G - EARLY NAZI DECK OF PLAYING CARDS SOLD This is my judgment. The backs are red with a swastika at center, within a field of smaller swastika...lots of them. Affixed to the top of the case, are two German postage stamps which I deem as tax stamps. The opposite side of the case reads "NO. 500 PLAYING CARDS / 11,12 & TWO 13 SPOTS for SIX HANDED GAMES / MADE IN U.S.A. / THE U.S. PLAYING CARD CO. / CINCINNATI, OHIO. / AIR CUSHION FINISH". Solid linen covered slip case box. Very high quality cards. Doesn't show too much use overall. Has Joker. No Nazi symbology other than on the back of the case and the top of each card. $50
10G - NAZI SS JEWELRY BOX, SS WATCH CHAIN & SS BRACELET I bought these, as one lot, from the GI who "acquired" them in Germany, before War's end. The story he passed to me is simple…he spent a night with a prostitute, and while enjoying the evening, he noticed this jewelry box, and curiosity being what it is, when he had the opportunity, he looked into the box to see what it held. Being an inveterate souvenir collector, he pocketed the box and contents when he left in the morning. He got away with it. Some many decades later, at the Syracuse Gun Show, where I was buying inventory for our business, and Nazi relics for our collection, I ran into this grouping and had to have it. Just great stuff. I have no further information to pass on, just what the GI told Dale, which he wrote down and kept with the items.
A. Nazi SS Jewelry Box - Circular, lathe-turned, from close grain dark wood. The entire exterior surface is given a decorative texture. 4 1/2" diameter, 2 1/4" deep. Has a 3 1/4" diameter lift-off lid which has four neat inlays - two lighter wood swastikas 1/2" across, and two aluminum sets of SS runes. Fine condition. $450

B. SS Watch Chain - 8½" long. Top end has standard cross piece which goes through button hole and then rotates 90 degrees and holds the chain. This links to a line of eight squarish oval slugs, linked together into a chain, ending in a typical snap on clasp which grabbed the loop on top of the watch. Each slug has a mixture of the deaths head and SS runes. Same on the other side. They are either silver or nickel plated brass. Tarnished a bit darker. Excellent showing some use. $450

C. SS Bracelet - SOLD 7½" long. Almost identical to the watch chain. Perhaps a bit smaller in scale, and also doesn't have the darker background behind the runes and death's head. We think this is perfectly usable by both a man or woman. $400
11G - NAZI COAT OR LAPEL SWASTIKA PIN Jewelry grade. Very strongly made. 7/8" across. The border is just under 1/4" wide, and consists entirely of deep and profuse rococo scrolls. The central area has a gold swastika about 1/4" across. Reverse has a pin, and a stout loop for attaching something else. $150
12G - BOOK - ADOLF HITLER BILDERAUS DEM LEBEN DES FUHRERS This is the 1936 First Edition of the Adolf Hitler reference book. A difficult reference book to find. This book was compiled by the cigarette photo card company Altona-Bahrenfeld to hold their cigarette photos. Overall excellent condition for its age. Tight. Covers have minimal shelf wear, and some foxing along the spine. Interior pages are yellowed somewhat, and have minor foxing. All photos are crisp and intact. This volume has 133 pages of information of narrative text (Fraktur typeface) and a large number (about 150 or more) of razor sharp Hoffman photographs of Hitler's life, including some of Hitler's early Vienna paintings from Hoffmann's collection. The book measures 9-1/2 by 12-1/4 inches. No dust jacket. Another book from Dale's library. $175
13G - 1942 G REICHSPFENNIG 3RD REICH 5 COIN This could be made of zinc, according to some online info on German coins. Otherwise, I know nothing about coins from this period. $5
15G - WWI GERMAN ALUMINUM LARGE CIGAR CASE 4 x 5 3/4". For large cigars. Hinges open with hinges on the long dimension. Front face has large, detailed Iron Cross stamped in, raising the design to have nice relief. Background has hammered texture. Emblem is 2 5/8" tall. Inside has retainer tape that looks like elastic, but is not springy. Very nice used condition, with very subtle areas of having been pushed on, being softer aluminum. Does not detract at all. $75
16G - FINE GERMAN VETERAN WATCH FOB SOLD 6" tall. Standard clasp on top for attaching to watch. Black ribbed tape with silver ends. Reichswehr eagle - swastika affixed to face. Bottom of tape suspends a disc pendant. The face has the official "Stahlhelm" emblem...helmet with crossed bayonets. Reverse has Christmas wording "KRIEGSWEIHNACHT 1939 / KDO. 7. INF. DIV." around the Iron Cross with swastika and 1939 in the middle. Shows use, but in beautiful condition. Below our cost. $250
17G - FINE NAZI MEMBER'S CIGARETTE CASE Very handsome with the entire exterior surface embossed with texture and bands. The face has Nazi party emblem affixed at center, done in fired enamel...red band around swastika against white, with a couple almost unseen flakes off the red band. Beautiful silver box 3 x 4 3/16". Very fine. $375
18G - HITLER POCKET MIRROR Bit over 2 x 3". Fine mirror. Back side of mirror has photo reproduction of an outdoor scene where Hitler has his arms around three children, with officers and one adult looking on. Picture fills all but a small band at bottom, which has the wording "ADOLPH HITLER DER FUHRER MIT KINDER. 1936". Nice quality. Nice condition. $95
19G - GERMAN OFFICER'S GREY LEATHER GLOVES Unsure of the exact date...some say post-War. I have two pair, both unused. Dale had kept them aside in case he needed to use them for winter wear, but never did. Both have a tag that reads "10 10/02 2708H". Nice supple leather. Each pair...$15 Have one pair left
22G - NAZI COIN BANK SOLD With innocent appearing decoration. Consists of 3 1/4" tall wood barrel with metal lid with coin slot and wire bale, and still has the key. Bottom has trapdoor for removal of coins. Side of barrel has decal in full color of flower bouquet, featuring prominently the white Edelweiss, which is an emblem identifying SS mountain troops. Above the flowers is a metal swastika. Great condition and original. Certainly a different item. $125
26G - ADOLPH HITLER 935 SILVER BROOCH Incredible hand made Hitler brooch. Clear glass oval with bust of Hitler etched or otherwise sunken in the backside, giving the bust a frosted appearance. Below is his name ADOLPH HITLER in sunken letters as well. This is mounted in a 935 silver oval frame with pin back. Has a tiny tab soldered on stating the brooch was "HANDARBEIT" (hand made) and "935". Impressive and like new condition. $250
32G - EXCEPTIONAL WWI GERMAN TRENCH ART BRACELET A classic of the War - made from recovered brass sabot from an artillery shell, having had a great deal more work done on it than normal. It has steel frame work, but is entirely faced with nicely patinated sabot with grooves, which was ground down to a thin layer which veneers the entire exterior. Neat. And the face has a small iron cross with crown and 1914, affixed between two long, narrow leafy sprays. The bracelet is hinged, and has a catch opposite, with safety chain...the chain is broken 1/3rd of the way, and shouldn't be too hard to fix. It appears someone put something like epoxy on the clasp tongue, and there is some residual left. The tongue fits in, but needs a little pull to get it out...possibly why the chain was broken. It seems that the tongue was not grasping (still not) but it does stay in place due to the little bump of epoxy still there. Otherwise fine condition and almost a unique variation. Very nice for display, just not to wear unless you can get the clasp repaired. Surely was a higher priced item originally. $110



33G - FINE WWI GERMAN TRENCH ART BRACELET Jewelry grade bracelet made from the sabot off an artillery shell (brass driving band from an artillery shell). 2 1/2" in diameter and approx. 1/2" wide. Outer surface shows the grooving made by the passage of the shell through the cannon barrel. Nicely gilded, showing only a trace of wear. Top face has an oval decorative plate attached, faced with leaves and acorns, and featuring a fired enamel Iron Cross at center. Bracelet hinges open for wear. Opposite the hinge is a latch and safety chain. Quite attractive. Practically new condition. Scarce motif. $85
34G - GERMAN WWI WATCH FOB SOLD Extremely fine, all complete and original. Entirely black. Spring loaded hook at top affixed to decorative wirework beneath - which supports 2 3/8" of black ribbon with Iron Cross on horizontal bar. Below ribbon is more decorative wire work supporting a cross with another Iron Cross. Choice condition, with some minor parting of the ribbon at the top left. 5 3/4" long overall. $95
35G - GERMAN WWI WATCH FOB SOLD Has typical bit of chain and spring loaded clasp to attach to the watch. Below this is the original black silk ribbon 7/8" wide, 2 3/4" long, suspending an Iron Cross 1" wide. Nicely done in iron. Has crown "W", and "1914". Excellent. 6" long overall. $65


36G - WWII & EARLIER GERMAN COIN BRACELET Don't know if this was sold as a souvenir during the War, or during Occupation. It seems appropriate for both. Bracelet consists of nine brass coins, linked together by a neat loop of wire. Clasp is a single wire loop. Coins are all 5 & 10 pfennig, and all but one has eagle on a wreath around a swastika. All date in the 1930's, but last digit is obscured on most if not all by the hole for the wire link. One coin is pre-Nazi (1923). This seems like something a G.I. would like as a souvenir. Coins are in very excellent condition. 8" long. $60




37G - WWII & EARLIER GERMAN COIN BRACELET Nice selection of early German coins from the 1930's with Nazi/swastika design, as far back as 1875 (one coin) and the Imperial Period. Most are from the 1920's. There are four Nazi coins, and the rest earlier. Needs simple "U" shaped wire clasp. The entire bracelet and coins have tarnished to a coppery brown. Coins are very good. Can't say if this was sold to German soldiers, and the general public, or to American soldiers as a souvenir. Seems appropriate for both. About 7 1/4" long. $45
39G - GERMAN WWI SHOULDER BOARD INSIGNIA RING Blue grey shoulder board with red number 474 on top face. This is applied over a background of crossed sabers and a few oak leaves. I'm guessing the ring is silver plated brass. Nice relief to the design. Couple letters stamped inside the band, but I can't make out. Approximate size 8.5. $95
40G - UNIQUE & RARE GERMAN WWI SHOULDER BOARD INSIGNIA RING Made from thin sheet aluminum with exterior texture which is similar to miniature tire tread. The top shoulder board is framed out with similar textured border, applied to the ring body. The actual shoulder board is glossy white, possibly celluloid, with red number "2". About new condition. Approximate size -10. $100
41G - VERY SPECIAL WWI GERMAN MILITARY THEME SOLINGEN POCKET KNIFE SOLD 3 1/2" long closed. Solid brass grips, each side with separate design. Comes with two conventional blades, one large, one small. One side has busts of Hindenberg and Kaiser. Has a small panel with an engraved message "EINIGKEIT MACHT STARK" (UNITY MAKES STRENGTH). Opposite side has Iron Cross at one end and long inscription in raised letters, reading "Demtapferen Krieger zur Erinnerung an die grosse Zeit 1914-1917 / Gewidmet von Gottlieb Hausbrandt, Halberstadt". Brass grips are fine. The larger blade is stamped "GEBRUDER FROMMANN SOLINGEN". Blades have some smooth wear and some light grey. $225


43G - OUTSTANDING C.1936 GERMAN CIGARETTE CARD ALBUM Entitled "DIE BUNTE WELT" (which I believe translates to The Colorful or diverse) World. Consists of 45 tissue separated pages, each with 6 different, small colored cards, total 270 different cards. Each pictures some place, person, animal, fish, insect or object of curiosity found over the world and its many cultures. Completely filled in. I believe the cards came as a premium with each pack of cigarettes. Album provides specific place for each card, over an explanation. Condition of inside is clean, excellent. Cover has embossed golden image of cathedral type building over the title. Some edge wear. Rear cover has some edge tears and 1/2 x 1/4" piece of lower edge torn off. Exceptional album put out by the Nazis just prior to WWII. Book measures 9 5/8 x 11 1/4". $75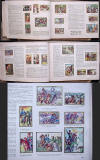 44G - 1933 GERMAN CIGARETTE CARD ALBUM A general term for a most unusual and handsome book which has besides printed text, a great number of various sized colored pictures individually glued in their designated spots. Some of these albums actually were filled with cards obtained as premiums with cigarettes. This wonderful volume is entitled "DEUTSCHLAND HOCH IN EHREN". Cover shows a UHLAN with horse. Content seems to relate German military history from the earliest times to the present (1933). 9 x 13'', thick, stiff paper covers. 66 pages. I estimate well over 300 color insert pictures, predominantly combat. Complete. Clean. Excellent. Shows some handling/edge rubbing. $75
45G - IMPERIAL GERMANY COCKADE Very fancy cockade featuring a waist-up photo of the Kaiser Wilhelm in all his uniform splendor. The photo is a domed oval in a sepia finish, 2 1/2" tall, bordered by simulated spun brass wire, this within embossed paper scrolls, this within a border of white lace, this within an interrupted border of ribbon (ribbon tabs every 1/2" or so), within an oval border of more white lace. Whole thing is 4 1/2" high oval. Probably given out to select company at a very important gathering/celebration which this commemorates, and seems to have been attached to something...sash, book top, box, etc. Very nice condition. Couple spots on the embossed paper where the scrolls chipped off, and most of the embossed paper decorations on the tips of the white satin pieces are gone. $50
46G - WWI GERMAN WALLET FOR PAPER MONEY 4 x 6". Two stiff covers which hinge to open the wallet like a book. Couple tapes inside hold the bills in place. What's interesting is that the wallet opens from one side or the other, making the straps inside look like they switched. Cover has light printing on top of the brown wallet. Text is "Banknoten=Tafche / vom / eifernen Jahr / 1914", with an iron cross. Very good. $40
50G - WWI GERMAN PATRIOTIC POCKET MIRROR Circular, 2 1/4" diameter, with front face bearing photo quality bust of Field Marshal Von Hindenburg. Shows all his decorations. Has the following text arching over portrait ("Wilhelm Rudolph Annaberg") the exact meaning of which is not understood. More text appears below portrait, which is advertising. Reverse has very good circular mirror. This was obviously a premium (gift) to a customer. $35
51G - WWI PREMIUM POCKET MIRROR GIVEN TO GENEROUS CONTRIBUTOR TO THE FRENCH & BELGIUM RELIEF FUND Largest pocket mirror we've seen used to reward contributors. 3 1/2" in diameter. Picture side has celluloid coating over three photos - General French, King Albert and General Joffre. Arching over the top is the title of the charity "For the French and Belgian Relief Fund". Reverse has fine beveled glass mirror. Great condition, with just some slight depressions under the celluloid; hardly seen unless you look closely. $35



56G - WWI GERMAN WAR CARD GAME OF SCHAFKOPF Deck of 31, lacking a single card. Box lists count at 32. It revolves around familiarizing the users with the appearance of all the important persons of the War, starting with Hindenberg, and working down. Most of the cards have excellent color portraits of WWI personalities, including most generals. Condition is very excellent. I can't offer a translation of the considerable text on the box. A few words of the title are: "Deutsche Kriegs-Spielkarte". Worth more than the price just for the excellent portraits - all in color. $75


59G - NAZI 835 SILVER PARTY FLAG CUFF LINKS SOLD Exquisitely precise rectangular, fired enamel flags against silver backing which extends a bit beyond the narrow ends. Back side has curved flat arm which terminates with a rocking cross piece. Excellent, and high quality. $250
63G - WWI GERMAN LADIES NECKLACE Has a circular silver pendant 1 1/16" diameter, centered with an iron cross in black enamel. Ringing the cross is a silver wreath of oak leaves and acorns. Bright. On original silver color chain. $65
64G - WWI GERMAN MILITARY NOVELTY POCKET KNIFE SOLD 3 1/4" long closed. Has two conventional blades, one larger than the other. Blades mint except for a couple grey spots on each. Grips are steel, finished dark silvery grey. One grip face has lightly raised, super crisp iron cross and motto "GOT MIT UNS". Little wreath decorations on the ends. Bit of wear to extreme edge finish. Super collector's knife. $175
65G - WWI GERMAN PATRIOTIC POCKET KNIFE 3 1/8" long, closed. Has two standard blades - one large, one smaller. Grips are steel, worn to a natural grey. One side has applied silver Imperial Eagle crest. Beautifully detailed. Blades are fairly bright. A little wear and thin grey stains. $65
67G - A SELECTION OF WWI GERMAN or AUSTRIAN VIVAT SILK RIBBONS From Wikipedia: "These were silk ribbons with printed patriotic messages popular in Germany and Austria during World War I. They celebrated various battles and important events, as well as royalty and the military leaders. They were designed by many famous German artists of the period. Their name was derived from word "Vivat!" ("Live!") printed on most of ribbons. During World War I many ribbons were released by the German Red Cross to raise funds for war relief and had the following text on the bottom "Zum Besten Des Roten Kreuzes; Verlag Amsler u. Ruthardt; Berlin W8" ("To the benefit of the Red Cross; Verlag Amsler & Ruthardt; Berlin W8")." All listed below are in amazing MINT condition. I tried to get as close to the true color, but variations might exist due to lighting conditions during photographing. Also because they each have been folded in fourths and stored that way, they will need a light ironing. Therefore, some of the photos will also show shadowing. Sizes are roughly 2 1/2 x 15 3/4", some slightly shorter. Each $35
Click on each thumbnail photo below for a larger view
U.

V.

69G - NAZI PARTY MEMBER'S WATCH FOB SOLD Approximately 4 1/2" long including short chain/clasp on top. Double layer ribbon hangs below, in national colors of red - white - black. Has two silver cross pieces and one at top holding ribbon. At the center is the Nazi party pin in crisp fired enamel. Lettering on the red band reads "NATIONAL SOZALISTISCHE - D.A.P.". Very nice used condition, with minor dents here and there, and some minor fraying to the ribbon. $145


70G - NAZI PARTY MEMBER'S WATCH FOB SOLD Approximately 5" long, including short chain/clasp on top. This attaches to a woven ribbon of metal to a geometrically decorated terminal piece...with a bit of Art Deco influence. Face of ribbon has black fired enamel swastika. Very good condition, showing some handing/use age. Don't see any markings. $195


71G - WWII GERMAN WATCH FOB SOLD Approximately 4" long, including short chain/clasp on top. This supports the double layer ribbon in national colors. Has silver bars across, plus one large with enamel colors in a stripe across one corner. Fairly bright ribbon. Excellent condition. For someone who didn't want to advertise Nazi affiliations but still wanted to be seen as a patriot. There is a name on back "MARIA". $150

SOME GREAT BARGAINS BELOW - the first few, less expensive groups, have some really interesting items:
When emailing, please refer to the Price Level, Item Letter and Group # if applicable
Click on each thumbnail to see large photos
$12 EACH:
$18 EACH:
A, B, D - SOLD
$20 EACH:
$25 EACH:
$35 EACH:
$40 EACH:
$42 EACH:
$45 EACH:
$50 EACH:
$55 EACH:
$60 EACH:
#1
A, B, C, D, E, F, G, H - SOLD