CLICK ON EACH THUMBNAIL PHOTO FOR LARGER VIEW OF THE ITEM
I will list items in sub-categories below, to the best of my ability, and those sub-categories are in no particular order. Please scroll all the way through to the bottom.
PRICES REDUCED ON EVERYTHING, AND EVERYTHING IS NOW PRICED WAY BELOW ORIGINAL COST IN ALL CASES!! NEED TO MOVE THESE ITEMS ALONG. PLEASE SCROLL THROUGH AND YOU WILL FIND SOME GREAT BUYS.
MASONIC

1 FRM - BEAUTIFUL MASONIC BALL, CRUCIFIX, 9 KT GOLD NECKLACE OR FOB This is a fabulous item for Masonic collectors. A 9 karat gold ball, 9/16" in diameter, which, by lifting 4 tiny latches, the ball opens into 6 segments which at full position open, becomes a cross. The underside of the latches are stamped with "9 CT". When open, the cross measures 1 1/2 x 1 1/8". Each segment has 4 triangular faces, and each is hand engraved with some Masonic symbols. The engraving work is legible but not masterpiece quality. There is a small loop at the top of the ball when closed, for hanging around the neck. These are really intriguing. $350 Sale Price $250
2 FRM - GOLDEN MASONIC PRESENTATION JEWEL - 1906
In original maroon velvet lined pouch. Three piece construction, all gold and hand engraved. Appears to be 12-14 KT. Top bar has pin back. Face is engraved in scrolls. Long blue original ribbon drops from the bar. The second gold piece is an oval belt buckle design, again with surface engraving. This has a ring which supports the major pendant in form of the compass. Hinge point at top has rubies. Face of compass is beautifully engraved in almost microscopic scrolls. Compass arms are open against a curved scale. Above the scale is a sunburst in high relief with six rubies. Reverse of scale has presentation..."Presented to Wor. Bro. George H. Calkins P.M. by Tonowanda, No. 247, F & AM, N.Y. Jan 4, 1906". Jewel is as new. Ribbon is somewhat rumpled. Black leather case has some parting of hinges at ends, and the snap has pulled through a bit. Also has GEORGE H. CALKINS TONAWANDA NY on the cover flap, plus the manufacturer's name inside the lid, MUNDIE BROS. Jewelers, Tonawanda. Gorgeous. $375
Sale Price $250


3 FRM - MASONIC IDENTIFIED SILVER JEWEL - 1922 This, and the medal below belonged to the same man. 4 1/8" tall. Three piece construction. Top pin back bar supports vintage ribbon. Engraved wording reads "P.M. Andrew D. Cade". Pendant from ribbon is standard silver square faced with engraved symbols of the order. A small extra piece hangs from square, being a geomtric rendering. Reverse of square is engraved with "Peter A. B. Widener / Lodge No. 671, F. & A.M. 1922. Excellent. $95 Sale Price $50



4 FRM - TOP QUALITY MASONIC PRESENTATION SILVER JEWEL - 1923 This, and the medal above belonged to the same man.
5 1/8" tall. Five piece construction plus vintage ribbon - may be original or was replaced by original owner. Totally correct. Top half has 3 bars. Top is pin back, and has pierced design. At top center there is a small diamond (confirmed with our diamond tester). Center has openwork scrolls plus pierced lodge number 671. Bottom bar is a nice assortment of Mason's tools. This supports the pendant which has as its core the square fully decorated, and almost entirely submerged with 3-dimensional mason's tools done in microscopic detail, AND the tools incorporate dark blue fired enamel, making an impressive "jewel". Finally there is the small square from around the geometric rendering against the blue backing. The reverse is engraved "Presented to P. M. Andrew D. Cade BY Peter A. B. Widener, Lodge 671, F. & A.M. Jan 8, 1923". Fine condition and very desirable quality. Comes with original leather wallet, with good deal of wear on the edges, and some cracking on the seams. The case is marked "WM. LoBIANCO / JEWELER". $350
Sale Price $195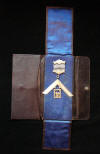 5 FRM - MASONIC PRESENTATION NEW MEMBER SILVER JEWEL - 1930 Comes in original worn leather case. Consists of four pieces, plus ribbon. 4 5/16" tall. Top has two blank bars with ribbon between. Ribbon is a replacement from period of use. Suspended from lower bar is a pendant which is the standard square with edge decoration. Suspended from this is a geometric rending. On reverse of square is wording: David Horenstein / Welcome Lodge No. 453 F. & A.M. 1930". Metal is excellent, appears solid silver. Ribbon is faded. Case is worn, mostly on edge folds. $95
Sale Price $50


6 FRM - MASONIC PRESENTATION SILVER JEWEL - 1939 Five piece construction of the best quality with profuse, elaborate hand carved and engraved detail. 4 3/4" tall. Top half which incorporates the original blue watered silk ribbon has three pieces...top and bottom bars are enhanced by edge scrolls, and read "HARRY GEORGE MANN" and "POTTER LODGE NO. 441, F. & A.M.". Between the two bars is a third, which spans the middle of the ribbon. It carries the oval center design of the lodge No. "441". Suspended is the massive silver pendant which uses as its case, the standard square, but non-standard in that it is almost submerged by a 3-dimensional Masonic symbols in superb detail. Hanging from it is the little square frame around a geometric rendering. On the back side is engraved with "Presented to Bro P.M. Harry George Mann BY Potter Lodge No. 441 F. & A.M. Jan 20 1939. Fine condition overall. $275 Sale Price $175



7 FRM - PRESENTATION MASONIC SILVER JEWEL - 1945 5 1/4" tall. Beautiful condition. Four piece construction with blue watered silk ribbon (original). Top bar has pin and clasp (affixed to plastic pocket protector) so jewel could be worn without pinning it to a coat pocket. Pocket protector is also original with gold instructions. Top bar is engraved with "P. M. RAYMOND D. SINGER / 1945". The ribbon falls from top bar to second bar, engraved with "MANHEIM LODGE NO. 587". Bottom pendant is the classic inverted square faced with symbols, and this has a small rectangle enclosing a geometric layout. Back side of square is engraved with "PRESENTED TO P. M. RAYMOND D. SINGER MANHEIM LODGE NO. 587 F. & A.M. DEC. 27th 1945". Virtually new condition. Comes in original case lined with purple satin, in fine condition. Has the name "WM. LEHMBERG & SONS - LODGE REGALIA PHILADELPHIA" on the inside flap. $245 Sale Price $145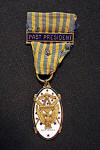 8 FRM - LOVELY BADGE - SOJOURNERS NATIONAL - APPEARS MASONIC However, there my knowledge and references end. 3 3/4" tall. Tall white fired enamel background, filled with blue stars, with gilded design affixed to face; the wording is "SOJOURNERS / NATIONAL". Has compass and square over spread eagle. Very attractive. Hangs from blue/yellow striped ribbon with PAST PRESIDENT bar. Ribbon is dulled. A bit of sewing is loose by the pin. Enamel work makes this a little gem. Stamped "DIEGES & GLUST NEW YORK". $25 Sale Price $15
9 FRM - HISTORIC 1830 NEWSPAPER ANTI-MASONIC HERALD "The Anti-Masonic Herald, and Lancaster Weekly Courier", Lancaster, Pennsylvania. Friday July 23, 1830. Volume III. No. 6. 22 x 30", folded in half, giving 4 print pages. Filled with picturesque advertising and notices, and several editorials and news items, most exhibiting the paper's clear and certain anti-Masonic sentiments, boldly inserted in their reporting on most situations and incidents reported. A trial is said to have been decided in favor of a mason, George Washington is said to have denied active membership in the masons, and many other examples. Paper shows wear and some parting on folds. Entirely legible. Fascinating reading. Illustrative of the rabid anti-Masonic sentiment which existed at that time in the country. $20 Sale Price $10


10 FRM - CABINET PHOTO C.1880's OF MAN WITH SHRINER INSIGNIA The insignia is worn at the throat, probably pinned to his tie. Scimitar at top, suspending the arch of claws with sphinx at center, suspending a small pendant. Fine. $25 Sale Price $15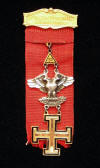 11 FRM - BADGE OF A 32nd DEGREE SCOTTISH RITE MASON Fine quality piece consisting of golden top bar with pin back, and reading "Massachusetts Consistory". This drops a 4" red silk ribbon, the top having a fold and metal loop at center, supporting a triangle enclosing the number 32, it supporting a silver double headed eagle with tiny red eyes, which supports a beautifully made gold edged with black Teutonic cross. Everything is excellent. Ribbon shows some subtle handling/dulling. Back mark on the cross is "ROBBINS CO. ATTLEBORO, MASS". $35
Sale Price $25
KNIGHTS TEMPLAR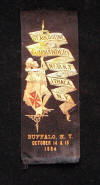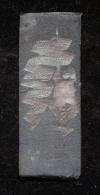 1 FRKT - KNIGHTS TEMPLAR RIBBON - 1884 Very handsome, done in gold on black silk. 7" long, 2 1/2" wide. Impressed with image of knight holding a pike from which falls a long ribband which winds back and forth, and has all the information printed on it. Wording is "ST. AUGUSTINE COMMANDERY NO. 38 K.T. ITHACA N.Y.". Knight has shield in other hand and it has red cross on face. Below scene is more gold writing - "BUFFALO N.Y. / OCTOBER 14 & 15 1884". Very fine. Used a straight pin to wear on coat or jacket. $25
Sale Price $15

2 FRKT - KNIGHTS TEMPLAR 24TH TRIENNIAL CONCLAVE ENCAMPMENT BADGE OCT. 1889 Two piece bronze badge with backing ribbon. Top bar has crossed swords and four armed crosses. Clasp in back of ribbon bar. Red, white and blue ribbon is replaced with antique original. Just needs to be sewn to bar and cut to length. Pendant features a bust portrait ringed with inscription "24th TRIENNIAL CONCLAVE ENCAMPMENT K.T.U.S./ CHARLES ROOME, GRAND MASTER". Reverse has inscription "GRAND PARADE AND ESCORT OF KNIGHTS TEMPLAR, OCTOBER 1889, EM. SIR. M.M. PARKER, CHIEF MARSHAL". Excellent. Approximate 3 3/4" tall. $25
Sale Price $15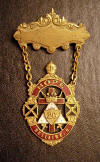 3 FRKT - ANTIQUE KNIGHTS TEMPLAR BADGE C.1900 Not sure what it designates; either the 26th Conclave at the location given (BELLAIRE, OHIO) or a badge indicating how long the wearer had been a member...in this case 26 years. Two piece badge of superb quality, 3 1/4" tall. Blank decorative pin back top piece. Chain connects the pendant which has knight's helmet at top over tall oval in maroon fired enamel, with black/gold crosses on each side, with KT letters, maroon cross with crown over white pyramid, faced with shield with gold 26. Rear has the maker stamped "C.G. BRAXMAR CO. N.Y.". Just a little beauty. $35 Sale Price $20


4 FRKT - ANTIQUE LARGE & SHOWY KNIGHTS TEMPLAR RIBBON 9 1/2" long x 2 3/4" wide black silk. Believe this was created and worn for a funeral, but not sure. Face is embossed with ornate gold and silver brass with clasp on back and ribbon support bar. Ribbon reads, from top down, "LEWISTON / COMMANDERY / entwined letters C L with crossed swords & pike) / four-sided cross around picture of charging crusader on horse, ringed with "LEWISTON COMMANDERY K.T., CHARTERED MAY 2nd, 1865" and below "NO. 6 K.T. / LEWISTON MAINE". Bottom is edged with silver bullion and fringe. Top bar is tarnished. Bullion is tarnished. Ribbon is fine. Lettering/decoration generally excellent. These large, showy ribbons are great display items. Many fraternal orders used them. C.1880-90. $50 Sale Price $25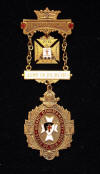 6 FRKT - FINE 1911 KNIGHTS TEMPLAR MASONIC ANNUAL CONCLAVE BADGE Artistic and superbly made. 4-piece construction 4 1/2" tall. Top pin back bar is surmounted by a crown over the title "98th ANNUAL CONCLAVE" flanked by miniature red fired enamel cross. This suspends by chain a gold cross with "WATERTOWN COMMANDERY No. 11 K. T.", surrounding miniature white fired enamel flag with red cross and motto. Also suspended from top bar, this, by two chains, is a white cross bar with dates of the event "JUNE 19, 20, 21, 1911". This suspends the main pendant surrounded by a wreath, KT crosses, tall maroon oval with gold lettering "GRAND COMMANDERY OF NEW YORK" around sunburst, white cross and white/black KT shield. Top bar has ribbon bar, but original ribbon is lacking. $45
Sale Price $25
ODD FELLOWS
1 FROF - ODD FELLOWS "PNG" (PAST NOBLE GRAND) JEWEL Hand engraved. Lovely fired enamel work. Two piece 2 1/2" tall. Top bar has T-Bar pin and clasp and on front, the three chain links, enclosing the incised black enamel letters P.N.G. Pendant has circular border with hand engraved embellishments around star with lily and beehive. Appears to have a gold finish, probably plate. C.1890. About mint condition. $35 Sale Price $25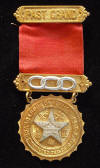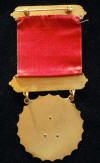 2 FROF - LARGE & SHOWY I.O.O.F. PAST GRAND MASTER'S BADGE Independent Order of Odd Fellows. Very old fraternal order existing in many countries before it was organized in Baltimore in 1819, by Thomas Wildey & associates. The badge has four parts, total 5" high. Top bar, ribbon, bottom bar, and pendant. The top bar seems like gold washed brass, with raised lettering "PAST GRAND". It has a clasp on back and ribbon bar. This ribbon is red silk. The bottom bar is nearly identical to the top bar, but has the 3-link chain symbol of the Odd Fellows, done in silver plate. The bottom pendant is circular with scalloped edge, with a ring of lettering around the edge reading "GRAND LODGE OF VERMONT, I.O.O.F., INSTITUTED DEC. 29, 1847". Within the ring of lettering are several lodge symbols around a silver washed star reading "MUTUAL BELIEF / CHARITY, FRIENDSHIP, LOVE & TRUTH". Very fine condition. Ribbon has tiny dirt spot at bottom. A vintage badge and fine collector's specimen. $45
Sale Price $30


4 FROF - ODD FELLOWS VINTAGE JEWELRY GRADE LONGEVITY BADGE I believe this badge is to signify the member has belonged for 25 years, the number found at the center of the face, gold number against royal blue disc. Two piece badge 2 1/4" tall. Top piece is three links with pin clasp on back. Pendant is beautiful, done up in layers of color and gold. Top layer is the blue with 25. Below this is a white 6-pointed star in fired enamel, and below this is a multi-pointed red fired enamel cross over a textured gold disc background. Top has couple touches of tarnish. Pendant is mint. Reverse of pendant reads "VETERAN / I.O.O.F. / PATENTED / 1889 / BY THE SOVEREIGN / GRAND LODGE I.O.O.F. / PENNSYLVANIA / CCCCLXXXIV". $45
Sale Price $30
5 FROF - GORGEOUS Circa 1850-60 HAIR WATCH CHAIN or CHOKER with ODD FELLOW PENDANT AND GOLD FITTINGS The chain is 15 1/2" long and is comprised of three strands of beautifully woven human hair, put together in a spiral. One end terminates in an engraved gold socket with rings. The other end terminates in engraved gold socket and ring which holds a very ornate, large hook which was meant to go over a button or in a button hole. In the middle of the chain is a gold, engraved sleeve through which the chain goes. It has a ring on the side which drops a swivel/chain holding a rectangular "jewel", a gold rectangular structure which has a layered glass or mineral centerpiece engraved with the three links of the ODD FELLOWS. The opposite side has a dark green striated insert. It's also possible that a lady wore it as a choker type necklace. Overall condition is very fine. The chain has one very small frayed area (see photo). About as fine as hair jewelry comes, from the Civil War- mid-1800's period. $350 Sale Price $175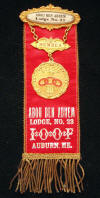 6 FROF - BIG, SHOWY VINTAGE ODD FELLOWS RIBBON BADGE We believe this dates around 1898. It measures 8 1/2" long and 2 1/2" wide. It is edged with gold bullion, with fringe on bottom, and is red with silver print. Affixed to the top is a gilt brass bordered, oval pin with celluloid oval sign reading "BOU BEN ADHEM / Lodge No. 23". Hanging by chain from the top piece is a smaller decorative piece with lettering "MEMBER". Hanging from this is a pendant with rococo scrolls around edge, and Odd Fellows symbols...IOOF, eye, three links, and bible. Below is the silver print reading "ABOU BEN ADHEM / LODGE, NO. 23 / I.O.O.F. / AUBURN, ME.". Turn the ribbon over and you see a completely additional ribbon layer - this one is black with mint silver lettering at bottom, identical on front. I've been told the black face was for wear at funerals? Super condition and great display. I collected these and found very few. Maker's paper label found between ribbon layers (M. C. Lilley & Co. Columbus, OH). $50
Sale Price $25


7 FROF - SPLENDID ODD FELLOWS SASH OR COLLAR C.1880's, WITH PHOTO OF OWNER AND I.D. PLATE Simply as removed from the frame it was originally in. ID plate states "MILTON E. SMITH First N.G. Takawambait Lodge 1878 - 1922". Deep red velvet embroidered in gold bullion, forming leafy sprays, stars and fringe at the lower edges plus tassels. A three oval link chain joins the bottom tails. Aside from deep tarnish to the bullion and some thinning to the red in areas, this is in very nice displayable condition. Does have an old crack with some old tape on back, along the top of the photo, and should be repaired more professionally. We haven't touched it. $95 Sale Price $50


8 FROF - ELABORATE EARLY ODD FELLOWS COLLAR Red velvet on top with silver bullion embroidery and fringe, and purple/black velvet on bottom embroidered with gold bullion and fringe. Inside is light purple satin quilting. Bottom pieces are brought together with the 3 oval chain links. Shows some edge wear and tarnish to bullion, but is very good overall, especially for its age. This is a masterpiece of bullion work and I judge it dates in the last quarter of the 19th Century. $95 Sale Price $45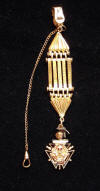 9 FROF - EXQUISITE I.O.O.F. JEWELRY GRADE ANTIQUE WATCH CHAIN & FOB This is for what I believe is the Patriarch Militant Degree, although I'm not totally up to date on these details. It will be quite difficult to describe because it is composed of a great many parts, nearly all gold plated or low karat gold, and it has numerous symbols. Study the photos for a true impression of this valuable and artistic gem. It is 5 1/2" long, and consists of (1) a decorative pocket clip from which a 5" chain comes with spring latch end which attaches to watch, and which has the multi-piece fob hangs... (2) a 3" long, complex gold suspension of parallel hinged bands with embossed decorations on their face, the whole thing made to simulate the form of a ribbon, from which hangs... (3) a fabulous pendant edged in gold, in the form of a three-sided cross faced with glossy black fired enamel with crossed swords behind, topped with a Knight's helmet with hinged face plate and topped with a spread eagle, over an oval gold disc faced with the raised design of a skull and crossed bones, the skull having ruby colored eyes, all over the I.O.O.F. symbol with three link chain. The reverse of the pendant has the all-seeing eye, raised. The eyeball is white with black pupil, in fired enamel, surrounded by what looks like a sunburst design. Gorgeous overall condition. I believe it dates C.1890-1920. $375
Sale Price $225
FRATERNAL ORDER OF EAGLES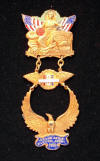 1 FROE - EXCEPTIONAL FRATERNAL ORDER OF EAGLES DELEGATE BADGE 1906 Delegate to The Grand Aerie, Milwaukee, Wisconsin August 1906. Three piece, 4 3/4" tall. Large top piece provides most of the decorative motifs relating to the location plus the words WISCONSIN and "A BRIGHT SPOT". Centered by a seated female figure flanked by full color fired enamel U.S. flags, with green wreath over head and shoulders. Below are agricultural products, a beaver, and more. Center piece has F.O.E. DELEGATE within wings in red, white and blue fired enamel. Below is eagle with exaggerated open wings over blue enamel sign with "GRAND AERIE MILWAUKEE AUGUST 1906". Top has pin clasp. Aside from a couple very tiny spots in gold finish, the badge is like new. Very pretty, and design, size and quality all befit a Delegate badge. This is the best F.O.E. badge in our personal collection. The F.O.E. was organized Feb 6, 1898, during the height of patriotic fervor during the Spanish American War. $125
Sale Price $75



2 FROE - FRATERNAL ORDER OF EAGLES DECORATIVE CHINA PLATE 9 3/4" in diameter. Dominated by a rampant eagle perched upon a rock outcrop which has four words on their face...LIBERTY, TRUTH, JUSTICE, EQUALITY". Gold filigree around edge. Has F.O.E. at top. Back mark is "WARNER KEEFER CHINA CO. E. LIVERPOOL". There are some fine scratching in the eagle's feathers, but not easily noticed. I judge the date of this fine piece is at least 50-60 years, and easily (based on style) much earlier. Fine. $45 Sale Price $25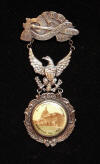 3 FROE - FRATERNAL ORDER OF EAGLES 9TH ANNUAL CONVENTION BADGE 1907 Norfolk Virginia 1907. Massive handsome badge. Silver plated brass pieces 5" tall. Top piece has long ribband with raised lettering "F.O.E. / WASHINGTON AERIE 125". Across the ribband is a large hatchet with the motto on side of head, reading "WE NEVER GIVE UP". Suspended from this is a fine silver spread eagle/shield/arrows/olive branch, in exact military style. This suspends a large, circular pendant with scrolls and wreath border around a full color, celluloid button with picture of, I believe, the nation's Capitol Building, surrounded by "9th ANNUAL CONVENTION / NORFOLK, VA. 1907". Very fine. Lacks ribbon on back. The F.O.E. was organized Feb 6, 1898 during the height of patriotic fervor during the Spanish American War. $110
Sale Price $50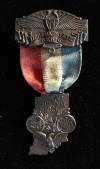 4 FROE - FRATERNAL ORDER OF EAGLES CONVENTION BADGE 1921 Top piece is faced with FOE logo flanked by spread wings, over "INDIANA STATE AERIE". Red - white - blue ribbon drops from this to pendant in shape of the state of Indiana, faced with "SOUTH BEND MAY 1921", state seal, American shield, ribband with "L.T.J.E." (we think Liberty, Truth, Justice, Equality) and spread wing eagle at bottom. Lacks pin back at top. Ribbon somewhat dull from dust. Rest is excellent. Rear is stamped with "THE GUSTAVE FOX CO. MAKERS CIN.O". $45
Sale Price $20
5 FROE - FRATERNAL ORDER OF EAGLES 5TH ANNUAL CONVENTION BADGE 1903 Organized Feb 6, 1898, during the height of patriotic fervor during the Spanish American War, and certainly inspired entirely by the events which saturated the culture. It also explains their motto "We Never Give Up". The badge is 3-piece plus ribbon, 3 1/2" long. I believe it's silver plated brass. Top bar is pin back and below a spread eagle is the organization's name. By chain link, the rest of the pieces are joined. The next has "GRAND AERIE". The fine disc shaped pendant repeats the organization's name around a tiny eagle over the organized date 1898. The reverse of the disc has the New York city seal with "5th ANNUAL CONVENTION NEW YORK CITY. SEPT. 1-5, 1903". About perfect except the red, white and blue ribbon has light fade. Made by Whitehead & Hoag, and stamped on the back bar. $125
Sale Price $60

6 FROE - FRATERNAL ORDER OF EAGLES CONVENTION DELEGATE BADGE 1914 Very scarce fraternal material, especially early specimens, which are quite handsome. F.O.E. established in 1898, and still going strong. Supports numerous benevolent causes. One example…donations to St. Jude's Hospital tops $1 million. This is a 3-piece badge in brass with some gold wash and decorative fired enamel. Top piece features a spread eagle under ribband saying "GRAND / KANSAS CITY / AERIE", over full color crossed American flags behind "1914 / F.O.E.", all enameled. The drop bar reads "DELEGATE". The pendant is in the shape of Missouri, with enameled "KC" in heart border, next to Mule over "Show Me". Under the KC heart is "HEART OF AMERICA". Below this is scene of residential homes. Clasp on back of top piece. Fine condition. $45 Sale Price $20
PATRIOTIC ORDER SONS OF AMERICA



1 FRPOSA - VERY NICE PATRIOTIC ORDER SONS OF AMERICA NECKLACE PENDANT "POS of A" gold finish necklace pendant, with a beautiful red, white and blue enamel US shield in the middle with George Washington's raised bust in the middle. The letters P O S of A over stars in the blue part of the shield above the bust. 1 5/8" tall x almost 1" wide, with a 3D eagle at the top on a globe, with a ring for hanging on a chain. Lots of engraving on the whole thing, the rear having an elk with birds and flowers, leaves, etc. Beautiful condition, but I see no markings; the gold finish is very nice. Not sure how far back this goes, but it strikes me earlier than the 1900's. Just needs to be put on a nice chain. $35 Sale Price $25


2 FRPOSA - 1913 P.O.S. of A. 48th ANNUAL SESSION DELEGATE BADGE "DELEGATE / 48TH ANNUAL SESSIONS" in blue and red enamel on the top bar, with a keystone in the middle. The bottom pendant has a red-white-blue enamel shield with the words "STATE CAMP AUG. 26.27.28 1913", and a white enamel star with bust of Washington and the letters "P.O.S. OF A.", which stands for Patriotic Order, Sons of America. "ALTOONA PENNSYLVANIA" at the very bottom over a background of leaves and foliage. Overall 2" high. Beautiful condition. No maker listed. $20 Sale Price $10
FORESTERS OF AMERICA
1 FRFA - JEWELRY GRADE FORESTERS OF AMERICA BADGE Brilliant gold (possibly 12 - 14 kt) and fired enamel, 3-piece badge 3 1/2" tall. Top bar is oval and hand engraved with the name STEPHEN GEDLINSKY. A small eagle sits atop. Has a T-bar clasp on back. Hanging from two chains is a second bar, engraved with "COURT CAPITOL No. 165". The lower pendant hangs from chain and consists of wreath faced with five pointed star in white fired enamel with letters "L.U.B.C." (Loyalty, Unity, Benevolence, Charity), and this has a seal applied on top consisting of an Elk head and red - white - blue "FOFA" in enamel. About mint condition. The society grew out of a British order founded in 1813, based on the tales of Robin Hood. By the 1830's it was a fraternal benefit society much like the Masons. Many schisms have occurred over the decades spawning numerous splinter groups of which the F. of A. is one. Each piece has a mark which is a square with a diamond inside that. $50 Sale Price $25


2 FRFA - "F OF A" FORESTERS OF AMERICA FRATERNAL LAPEL PIN 5/8" wide x 7/8" high. Beautiful little pin with red, white and blue fired enamel in the flags and banner at bottom, underneath an Elk in the middle, and an eagle at the very top. Around the elk are the words "LIBERTY UNITY BENEVOLENCE CONCORD". There is a marking on the back, but I can not make it out. Likely is some level of gold. Quality item, early by the looks of the pin on back. $35 Sale Price $20
KNIGHTS OF PYTHIAS



1 FRKP - KNIGHTS OF PYTHIAS FOB PIN C.1890-1900 Fancy, two sided cross with K of P insignia at center with fired enamel colors. Metal is gold plated. Ring at top holds it to a ribband bar with pin back, and etched name "C. L. HAIGHT". Nice little badge, but fob was initially made for a watch chain and is a fine, stand-alone display item. Fine shape. $15
Sale Price $10
2 FRKP - EXQUISITE JEWELRY GRADE KNIGHTS OF PYTHIAS BADGE - 1903 Gold or gold plated. Marvelous workmanship. A treasure trove of KP symbolism, and significant because the owner is identified and an officer of the Uniform Rank. The badge itself is 3" tall, and a handsome combination of many KP symbols. Beginning at the top is a pure military feature of two epaulets with Captain's rank at center. This suspends the pendant, topped by a Knight's helmet, this affixed to a golden ring faced its full length by a serpent. Within this border are crossed weaponry, framing an upright fired enamel red pyramid with UR, over an inverted pyramid with KP, and on top of the junction of the two pyramids is a half globe with a silver Calla Lily. The reverse is engraved "Capt. Wm. Stiefel from Anson Co N 16 UP K of P / Dec. 23rd 1903". Top bar has T-bar clasp. Gorgeous condition. $295
Sale Price $145


3 FRKP - KNIGHTS OF PYTHIAS PRESENTATION BADGE 1916 Solid Silver (marked T SILVER) backing in the shape of a house, with weaponry applied, it having a gold wash. The weapons include crossed battle axes, helmet, and shield, the latter with the letters "F.C.B." (Friendship, Charity, Benevolance). This pendant hangs from a small ribband engraved with "Erie Lodge 327". The back side is engraved with "Presented to A.E. Meyer, by Erie Lodge 327 KP July 6, 1916". The engraving went over the copyright stamp of 1874, and other words within the logo. The weapons are indicative of the military orientation of KP and likely indicates a member of the Uniform Rank (U.R.), the military branch of KP. $50 Sale Price $25


5 FRKP - PRESENTATION KNIGHTS OF PYTHIAS BADGE CHICAGO 1895 10-12 kt gold or heavy gold plate. Tall oval border with wreath embossed on it, encircles the twin pyramids of the Uniform Rank. The letters KP are within the pyramid, and the officer's past rank is done up in black with silver Old English letters P.G.R. The oval pendant hangs from a ribband bar engraved "Commercial No. 257". The reverse of the pendant is engraved with "Presented to P. G. R. David P. Geer by Commercial Lodge 257 of Chicago for Meritorious Service, June 1895". Has copyright stamp also on rear. Excellent. $45 Sale Price $25
NEW ENGLAND ORDER OF PROTECTION


1 FRNEOP - 1921 PRESENTATION BADGE FROM THE NEW ENGLAND ORDER OF PROTECTION Four piece solid sterling. 5 1/2" tall. Top ornate pin back bar has raised lettering N.E.O.P. Hanging by two chains is a six-pointed star with entwined lettering at center, surrounded by the abbreviation of six New England states. Behind this is a dark blue ribbon drop supporting a large shield shaped pendant with what appears to be a man and woman shaking hands, surrounded by "UNITED FOR PROTECTION". Pendant's reverse is hand engraved with the presentation "Presented to / P. W. / Irving L. Redfield / by / Newtown Lodge No. 555 / 1921". Stamped "STERLING" on the three different pieces that make up the badge. Excellent condition. Metal is tarnished fairly dark. This is a very large fraternal benefit society that served New England states. Since 1968, joined with the Woodmen of the World. Their primary concerns are life insurance, hospital supplements, and annuity certificates. $40 Sale Price $20
KNIGHTS OF THE GOLDEN EAGLE

1 FRKGE - BADGE OF THE KNIGHTS OF THE GOLDEN EAGLE C.1900 Established 1873. Their principle tenets were "Fidelity, Valor, Honor". It is currently active, though considerably downsized from its days of glory. It is a beneficial, semi-military secret society that founded its ritual and ceremonies on the history and pageantry of crusaders of old. The badge is two piece, plus red ribbon backing. Top decorative bar is heavy brass with spread eagle over crossed swords. Reverse has long, heavy stick pin. Patent date of 1886 on rear. Pendant hangs on hook affixed to top bar. Pendant is 2" in diameter, with convex face. Has lodge name on front, a wreath and scene of Crusader being given a crown by a winged female figure. Ribbon is a correct vintage replacement (from a roll of original store stock), just needs to be sewn to ribbon bar. $20 Sale Price $10


2 FRKGE - ANOTHER KNIGHTS OF THE GOLDEN EAGLE BADGE C.1900 The badge is two-piece plus original red ribbon, 6" tall. Top decorative bar is heavy brass with spread eagle over crossed swords. Reverse has long, strong stick pin. Patent date of 1886 is seen. The ribbon supports an almost 2" gold tone disc, with convex face. Has lodge name, wreath, and central scene of warrior being given crown by winged woman. Ribbon is lightly faded. $20
Sale Price $10
MODERN WOODMEN OF AMERICA



1 FRMWA - COLLECTION OF SIX FRATERNAL BADGES FROM THE MODERN WOODMEN OF AMERICA Formed by Joseph Cullen Root in 1883. The name alluded to the foresters who cleared the land to build their communities. At the turn of the century, in addition to its fraternal activities, the MWA was among the largest of the 188 fraternal insurance companies in the US. It has a long history of fraternal benefits and still functions in a large way today. The badges are two piece, of fairly heavy stamped brass, with a bar on top in the form of half a log, suspending a large wedge. Overall height is 4 1/8". Each of the six badges is personalized for a different job title, put at top: SENTRY (in gilt); CONSUL, PAST CONSUL, TRUSTEE, ESCORT, BANKER. The last five are silver colored. The wedge pendant has on its face, heavily embossed letters MWA over the American Shield, over small insignia shield all surrounded by several leaves. Lettering/shield & insignia have full color, fired enamel finish. The gold badge has the leaves enameled as well. Fascinating group, probably early 20th Century. Excellent with clasp on back of top bar. One is missing the pin part. This price is our cost...$120 Sale Price $60
PATRONS OF HUSBANDRY



1 FRPH - MAGNIFICENT PATRONS OF HUSBANDRY BADGE Many fraternal organizations would call this a "jewel". This one is massive and brilliantly gold plated. 4 1/2" tall. Definitely vintage. Top bar has early T-bar pin with "C" clasp. The draping across the top of the framing structure is hand engraved "Northern Grange No. 5 N.H. Pomona". Not dated but is easily turn-of-the-century or earlier. The P.M. at center stands for Past Master. Overall condition is as new. The P of H began in 1867, and performed a valuable and powerful service for those engaged in agriculture. Originally designed as a social, cooperative and educational organization, the Grange came to serve as a powerful political lobby. A very showy piece. $75
Sale Price $35



2 FRPH - HIGH GRADE GOLD PLATED HAND ENGRAVED PATRONS OF HUSBANDRY BADGE 3" tall. Top pin back bar reads "N.H. STATE GRANGE / P. OF H." Edged with engraved scroll work. This suspends a pendant topped with a sheaf of wheat above a frame of logs around the entwined letters SY or YS...almost certainly standing for the title of an officer in the order. Back of top bar has maker's name "Harriott/Boston". Practically new condition and is early. The organization began in 1867, and performed a valuable and powerful service for those engaged in agriculture. Originally designed as a social, cooperative and educational organization, the Grange came to serve as a powerful political lobby. $45
Sale Price $20